All Posts
January 25, 2015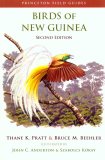 Reviews
,
Books
,
Field Guides
|
Comments (0)
by Thane K. Pratt and Bruce M. Beehler
A fully updated – and indispensable – field guide to New Guinea.
Before we get started, I want to say that this is by no means a definitive list. I've seen a lot of bird books in 2014, but not nearly all of them. Two in particular – Illustrated Checklist of the Birds of the World, Volume 1 and H is for Hawk – have been highly regarded but I have not had the pleasure of reading. So consider this more as my favorite books of the year.
Picking out just one book as "the best" of the year is even more subjective than coming up with this list as a whole. The Sibley Guide will undoubtedly be the most used book on this list, and I would concede that it's the all-around best. However, there's another that I want to highlight as the book of the year…
When Eagles Roar: The Amazing Journey of an African Wildlife Adventurer
by James Alexander Currie and Bonnie J. Fladung
This is the story of James Currie's infatuation with the natural world, from his work as a game ranger on a South African reserve to host of a nationally broadcast TV show on birding. The stories he tells are spell-binding, but it's the way he connects them to a larger picture of conservation and people that really makes this book stand out. This was the most moving, compelling, and entertaining book that I read in 2014. [Full Review]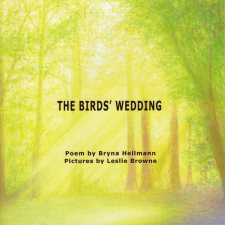 The Birds' Wedding
by Bryna Hellmann and Leslie Browne
This is two books inside one cover. The story of The Birds' Wedding is for reading aloud – perhaps at bedtime, since it ends with "Good Night!". It's a fantasy, of course, but even though the wedding guests are wearing hats and playing musical instruments, they look the way they do in real life.

The second part, Looking at Birds, is about lots of other birds, how they look, sing and make their nests, what they eat, where they live and what we call them. This part is for children who can read for themselves and for parents who want to answer their kids' questions. We hope it's fun to read and will encourage children to look for the birds where they live, recognize them, know their names and care about their well-being.

Because we "have dominion over the fish of the sea, and over the fowl of the air, and over every living thing that moves upon the earth", we're responsible for the well-being of all the living creatures we share our planet with. We depend on them as much as they depend on us. A world without birds would be a sad place.
This is a cute, short story for kids about a bird wedding. It's illustrated with some beautifully distinctive drawings. The second part is an overview of birds with a plea for conservation.
You can buy this book by emailing the author at brynah@xs4all.nl. The cost is $25, which includes shipping to the US.
The Birds' Wedding
by Bryna Hellmann and Leslie Browne
Paperback; 46 pages
Calbona Publishing; July, 2014
$25.00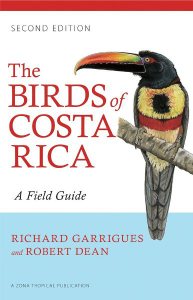 My review of The Birds of Costa Rica: A Field Guide is now up on Nature Travel Network.
Here are the last of the bird book reviews from 2014. Looking forward to many more in 2015.
When the second edition of The Sibley Guide was published earlier this year, there were clearly some issues with it. The most serious of those was color reproduction on some plates and a light text font that could make it hard to read. But a recently released second printing has corrected those issues. The text is darker, making it easier to read now. The colors also look much better. The most often cited offender was the male Scarlet Tanager, which was clearly not "brilliant red", as the text notes. The second printing is clearly redder, although not quite as much as it had been in the first edition.
So if you've held off getting this new Sibley Guide, it's now safe to buy. The 2nd printings can be identified by locating the text "Second printing, July 2014″ on the page after the title page. I haven't yet seen the new ones in a store, but you can get one now from Buteo Books.
The Warbler Guide app is now available on iTunes for Apple devices. Check out the recent blog tour for the app for a closer look at it.
Princeton University Press is also hosting a huge giveaway that includes a copy of the app, the book, the companion sound package for the book, and even binoculars! Enter here.
December 19, 2014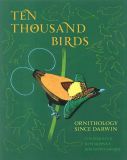 Reviews
,
Books
,
Biology & Behavior
|
Comments (0)
by Tim Birkhead, Jo Wimpenny, and Bob Montgomerie
An excellent summary of what we know about birds and the people who discovered it.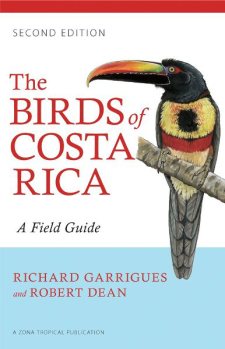 The Birds of Costa Rica: A Field Guide (Second Edition)
by Richard Garrigues and Robert Dean
From Cornell University Press:
This is the one compact, portable, and user-friendly field guide the novice or experienced birder needs to identify birds in the field in the diverse habitats found in Costa Rica. It features descriptions and illustrations of all 903 species definitely known from Costa Rica, including pelagics and species regular to Cocos Island. Fifty-six of these species are placed in a "Rarities" section that includes accidentals, rarer pelagics, and species that have not been reported in more than twenty years.

The detailed full-color illustrations show identifying features—including plumage differences among males, females, and juveniles—and views of birds in flight wherever pertinent. Robert Dean has supplied more than 360 new illustrations, including sixty-four species that are illustrated for the first time in this edition. These include recent additions to the country list, pelagic species, Cocos Island species, and all accidentals recorded from the Costa Rican mainland. Range maps and nomenclature have been updated for this edition, which also has a new user-friendly organizational scheme and an alphabetical quick-find index of groups on the inside back cover.
This is the best field guide available for this wonderfully birdy country.
The Birds of Costa Rica: A Field Guide (Second Edition)
by Richard Garrigues and Robert Dean
Paperback; 440 pages
Comstock Publishing Associates (imprint of Cornell University Press); December 4, 2014
ISBN: 978-0801479885
$29.95
Searching for Pekpek: Cassowaries and Conservation in the New Guinea Rainforest
I reviewed this book earlier this year – it's a great story and even more important message about conservation. The author is offering free shipping to the US and Canada until the end of the year. Even better, a portion of sales are donated to support conservation in Papua New Guinea. Order here
Expired
Save 25% on a single book at Amazon and Barnes & Noble
Both expire on 12/14.