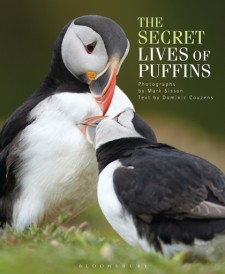 The Secret Lives of Puffins
by Dominic Couzens and Mark Sisson
From Bloomsbury:
Puffins are among the most instantly recognisable, iconic and well loved of birds. For many they are a highlight of the UK's summer coastline and their colourful appearance, comedy antics and approachability just add to their popularity. Several 'hotspot' are attracting high levels of interest in visits to their colonies. In spite of the high level of interest in, and appeal of, these birds there has been a surprising lack of books focused on Puffins as a species.

Award-winning wildlife photographer Mark Sisson has spent several years photographing Puffins and this new book combines images that beautifully encapsulate their charm and visual appeal with an accessible text written by leading wildlife writer Dominic Couzens. The book covers the birds' life cycle, behaviour, habitats and the current and future challenges that they face, along with many surprising facts and anecdotes.
This book was published in the UK earlier this year, but just recently in the US. Some great pictures here. A couple of things to note: this is exclusively about Atlantic Puffins, specifically those in Europe. Obviously, the natural history info is location independent, but just don't expect anything specifically about North American puffins or where to see them.
The Secret Lives of Puffins
by Dominic Couzens and Mark Sisson
Hardcover; 176 pages
Bloomsbury; January 28, 2014
ISBN: 978-1408186671
$35.00