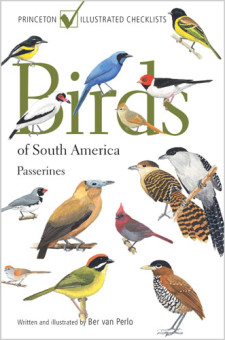 Birds of South America: Passerines (Princeton Illustrated Checklists)
by Ber van Perlo
From Princeton University Press:
This comprehensive field guide to the birds of South America covers all 1,952 passerine species to be found south of Panama, including offshore islands such as Trinidad, the Galapagos, and the Falklands, and the islands of the Scotia Arc leading to the Antarctic mainland. It features 197 stunning color plates and detailed species accounts that describe key identification features, habitat, songs, and calls. All plumages for each species are illustrated, including males, females, and juveniles. This easy-to-use guide is the essential travel companion for experienced birdwatchers and novice birders alike.

Combines a clear format with a wealth of detailed information
Features 197 color plates that aid identification
Covers key identification features with information on habitat, songs, and calls
Includes a distribution map for each species
This wouldn't be a good choice as a primary field guide. For one, it only covers the passerines, which are about 60% of the continent's birds (for the rest, there is a companion volume – Birds of South America: Non-Passerines). There's also a similar book – Field Guide to the Songbirds of South America: The Passerines – that has, in my opinion, better illustrations and much more extensive text, which makes it a better reference. But it's also much larger. So I would recommend this Illustrated Checklist to someone who wants a secondary guide while traveling, particularly to places underserved by other field guides.
Birds of South America: Passerines (Princeton Illustrated Checklists)
by Ber van Perlo
Paperback; 464 pages
Princeton University Press; September 1, 2015
ISBN: 978-0691167961
$29.95