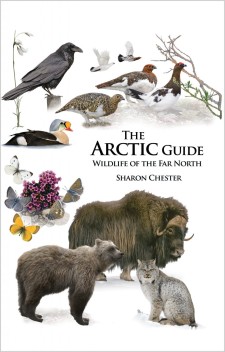 The Arctic Guide: Wildlife of the Far North
by Sharon Chester
From Princeton University Press:
The Arctic Guide presents the traveler and naturalist with a portable, authoritative guide to the flora and fauna of earth's northernmost region. Featuring superb color illustrations, this one-of-a-kind book covers the complete spectrum of wildlife–more than 800 species of plants, fishes, butterflies, birds, and mammals–that inhabit the Arctic's polar deserts, tundra, taiga, sea ice, and oceans. It can be used anywhere in the entire Holarctic region, including Norway's Svalbard archipelago, Siberia, the Russian Far East, islands of the Bering Sea, Alaska, the Canadian Arctic, and Greenland. Detailed species accounts describe key identification features, size, habitat, range, scientific name, and the unique characteristics that enable these organisms to survive in the extreme conditions of the Far North. A color distribution map accompanies each species account, and alternative names in German, French, Norwegian, Russian, Inuit, and Inupiaq are also provided.

Features superb color plates that allow for quick identification of more than 800 species of plants, fishes, butterflies, birds, and mammals
Includes detailed species accounts and color distribution maps
Covers the flora and fauna of the entire Arctic region
This excellent field guide, covering everything from mammals to plants, is perfect for anyone journeying to the Arctic. The only bad thing I can say about it is that the range maps are small, making it hard to make out details. Still, you can be sure this guide will accompany me when I finally make it to Alaska.
On a side note, this field guide is "flexi-bound" (similar to The Sibley Guide). I really hope future entries in Princeton University Press's wonderful field guide series are likewise bound.
The Arctic Guide: Wildlife of the Far North
by Sharon Chester
Flexi-bound; 544 pages
Princeton University Press; September 6, 2016
ISBN: 9780691139753
$27.95