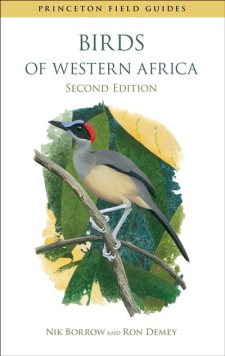 Birds of Western Africa: Second Edition
by Nik Borrow and Ron Demey
From Princeton University Press:
This revised and expanded edition of Birds of Western Africa is now the most up-to-date field guide available to the 1,285 species of birds found in the region–from Senegal and southern Mauritania east to Chad and the Central African Republic and south to Congo. It now features all maps and text opposite the plates for quick and easy reference. The comprehensive species accounts have been fully updated and expanded, and the color distribution maps have been completely revised. This premier guide also includes more than 3,000 illustrations on 266 stunning color plates.

Compact and lightweight, this new edition of Birds of Western Africa is the must-have field guide to one of the most exciting birding regions in the world.

The premier field guide to West African birds–now completely revised and expanded
Covers all 1,285 species found in the region
Features fully updated maps and text opposite the plates for easy reference
The timing of this new edition could be better – I doubt many birders are going to this region right now. Hopefully, this horrible Ebola outbreak will be over soon. And when it is, this looks like a good field guide to have for the region.
Birds of Western Africa: Second Edition
by Nik Borrow and Ron Demey
Paperback; 592 pages
Princeton University Press; October 26, 2014
ISBN: 978-0691159201
$45.00