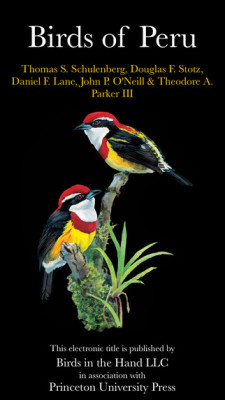 The Birds of Peru
$34.99
From Birdseye Nature Apps:
This is the interactive mobile field guide version of Birds of Peru by Schulenberg, Stotz, Lane, O'Neill & Parker. Like the paper edition, it is the most complete and authoritative field guide to this diverse neotropical landscape, featuring every one of Peru's 1,817 bird species. Every distinct plumage is covered in superb, high-quality color illustrations. This mobile version includes all of the same excellent content of the print edition plus audio for 1,510 species and "Smart Search" by color, size and habitat. It has been updated to reflect the current eBird/Clements taxonomy.

Peru's overwhelming diversity of birds has never been easier to navigate with the new Birds of Peru mobile field guide. Created from a collaboration between the Princeton Field Guides and BirdsEye Nature Apps, this application is loaded with in-depth descriptions and easy to use interactive features, including:

Detailed species accounts for all of Peru's +1800 bird species
Range maps showing species distribution in Peru.
Songs and/or calls for 1510 species
Gorgeous illustrations for every species, many with multiple plumages or geographic variation
Interactive Smart Search tool helps narrow down birds by region, color, size and/or habitat
Integrated listing to easily track your sightings as you go
Field guide apps are not cheap, but they certainly are convenient. The print version of this is an excellent field guide, hopefully the app version will be just as good. This is just for iOS devices right now. Birdseye asks: Please let us know if you would like us to keep you updated on the status of the Android version.