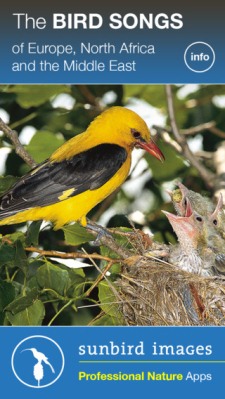 Bird Songs of Europe, North Africa and the Middle East
$79.99
From Edition AMPLE:
This is the professional App to the renowned reference work of Schulze and Dingler covering all 819 European species including all 2,817 songs and calls from the CDs and MP3-Discs. All species can be browsed according to their taxonomical classification and can thus be easily compared. Spectrograms to all sounds as well as high quality photographs and descriptions to each species are also included. As a novelty and practical advantage, multiple songs and calls of one species are arranged consecutively on separate tracks. Each track consists of several calls, which can independently be chosen and played immediately without the need to fast-forward. Explanations to all recordings and bird names are given in English.

Special features:

2817 songs & calls
Includes 802 European species
Spectrograms to all sounds
Descriptions to all species
1350 photographs
Create sighting lists and sort by place, date, group, and name
Make notes for each bird spotted
Display bird names in 18 languages
If you don't already have this comprehensive sound collection – and have an Apple device – this looks like a convenient way to always have these songs at your fingertips.