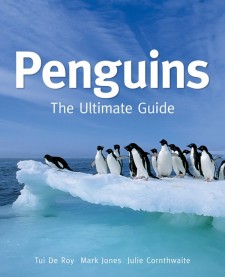 Penguins: The Ultimate Guide
by Tui De Roy, Mark Jones, and Julie Cornthwaite
From Princeton University Press:
Penguins are perhaps the most beloved birds. On land, their behavior appears so humorous and expressive that we can be excused for attributing to them moods and foibles similar to our own. Few realize how complex and mysterious their private lives truly are, as most of their existence takes place far from our prying eyes, hidden beneath the ocean waves. This stunningly illustrated book provides a unique look at these extraordinary creatures and the cutting-edge science that is helping us to better understand them. Featuring more than 400 breathtaking photos, this is the ultimate guide to all 18 species of penguins, including those with retiring personalities or nocturnal habits that tend to be overlooked and rarely photographed.

A book that no bird enthusiast or armchair naturalist should do without, Penguins includes discussions of penguin conservation, informative species profiles, fascinating penguin facts, and tips on where to see penguins in the wild.

Covers all 18 species of the world's penguins
Features more than 400 photos
Explores the latest science on penguins and their conservation
Includes informative species profiles and fascinating penguin facts
This book is very similar to the previous Tui De Roy and Mark Jones collaboration, Albatross: Their World, Their Ways (probably my favorite bird-family book ever). That means it is big, filled with gorgeous photographs, and packed with great information.
Penguins: The Ultimate Guide
by Tui De Roy, Mark Jones, and Julie Cornthwaite
Hardcover; 240 pages
Princeton University Press; August 24, 2014
ISBN: 978-0691162997
$35.00