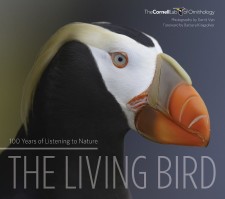 The Living Bird: 100 Years of Listening to Nature
by The Cornell Lab of Ornithology and Gerrit Vyn
From Mountaineers Books:
Foreword by Barbara Kingsolver
Over 250 images by renowned photographer Gerrit Vyn
Essays by Jared Diamond, John W. Fitzpatrick, Lyanda Lynn Haupt, and Scott Weidensaul

An intimate and stunning exploration of North American birds, The Living Bird celebrates our joyful and complex relationship with birds, through images by renowned wildlife photographer Gerrit Vyn and essays by some of the world's leading naturalists and bird enthusiasts. In 2015 the Cornell Lab of Ornithology will celebrate its 100th anniversary as one of the world's most prestigious and oldest institutions devoted to the study of birds. As a cornerstone of those celebrations, the Lab reveals the essence of its work in this visual and experiential journey through the fascinating and beautiful realm of birds. Connecting people with birds is often a first step in opening their eyes to the natural world around them.
Want to see some insanely good bird photographs? Just open this book to any page. It also has several essays celebrating birds from folks like Scott Weidensaul.
The Living Bird: 100 Years of Listening to Nature
by The Cornell Lab of Ornithology and Gerrit Vyn
Hardcover; 208 pages
Mountaineers Books; September 15, 2015
ISBN: 978-1594859656
$29.95