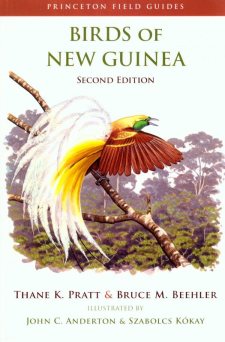 Birds of New Guinea: Second Edition
by Thane K. Pratt and Bruce M. Beehler
From Princeton University Press:
This is the completely revised edition of the essential field guide to the birds of New Guinea. The world's largest tropical island, New Guinea boasts a spectacular avifauna characterized by cassowaries, megapodes, pigeons, parrots, cuckoos, kingfishers, and owlet-nightjars, as well as an exceptionally diverse assemblage of songbirds such as the iconic birds of paradise and bowerbirds. Birds of New Guinea is the only guide to cover all 780 bird species reported in the area, including 366 endemics. Expanding its coverage with 111 vibrant color plates–twice as many as the first edition–and the addition of 635 range maps, the book also contains updated species accounts with new information about identification, voice, habits, and range. A must-have for everyone from ecotourists to field researchers, Birds of New Guinea remains an indispensable guide to the diverse birds of this remarkable region.

780 bird species, including 366 found nowhere else
111 stunning color plates, twice the number of the first edition
Expanded and updated species accounts provide details on identification, voice, habits, and range
635 range maps
Revised classification of birds reflects the latest research
The first edition of this guide was published almost 30 years ago and, long out-of-print, was commanding big bucks. Needless to say, this new edition has been much anticipated. If you're lucky enough to go birding in New Guinea, you'll want this field guide.
Birds of New Guinea: Second Edition
by Thane K. Pratt and Bruce M. Beehler
Paperback; 528 pages
Princeton University Press; October 1, 2014
ISBN: 978-0691095639
$49.50