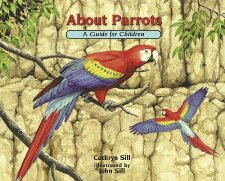 About Parrots: A Guide for Children

by Cathryn Sill and John Sill (Illustrator)
From Peachtree Publishers:
In this appealing addition to the acclaimed About… series, educator and author Cathryn Sill uses simple, easy-to-understand language to teach children what parrots are, how they look, how they move, what they eat, and where they live. Illustrator John Sill introduces readers to a variety of parrots, from the colorful Blue Lorikeets of the Polynesian Islands to the Rosy-faced Lovebirds of southwestern Africa. An afterword provides details on the parrots featured and inspires readers to learn more.
Not only is the art is gorgeous, but kids (and adults, too) are sure to learn a lot about these charismatic birds. Recommended for ages 3-7.
About Parrots: A Guide for Children
by Cathryn Sill and John Sill (Illustrator)
Hardcover; 48 pages
Peachtree Publishers; August 1, 2014
ISBN: 978-1561457953
$16.95