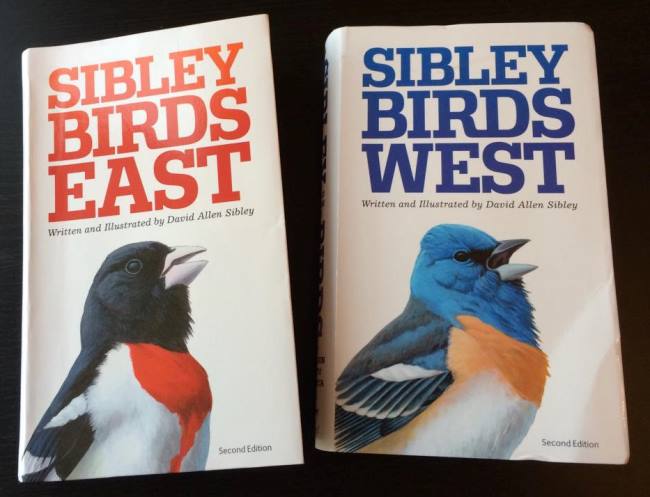 When the second edition of The Sibley Guide to Birds was published in 2014, everyone wanted to know when the Eastern and Western regional guides and the app would be likewise updated. Now, two years later, the new regional guides are set to be published. (We're still waiting on the app…)
These new regional guides are roughly the same size as the first editions, and include the same type of information. The big change is that the layout now matches that in the "big" Sibley – species are presented in a vertical column, one or two per page. This differs from the first editions, in which the birds were arranged in "blocks" of half a page each.
You do lose some text and illustrations in the regional guides. That's no surprise, I don't think anyone expected them to take the full-size guide and simply shrink it down. The same happened in the first regional guides. However, those guides added something significant: the text included relative abundance and other information not found in the big version. These new ones, in contrast, do not add anything significant not found in the latest big guide (Sibley wisely incorporated the additional text from the first regional books into the second edition of the big guide). Sibley, in a blog post, mentions that all recent taxonomic changes have been incorporated and that the new Western guide includes several new introduced birds. But that's it for the updates.
So should you get these new, smaller guides? If The Sibley Guide is your preferred field guide, but you wish it were small enough to carry into the field, then the answer is yes. Especially since there's no word on when the app will be updated. Otherwise, stick with the big Sibley (which everyone already has, yes?).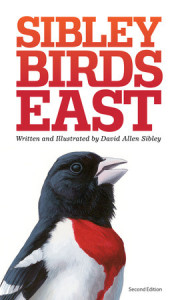 The Sibley Field Guide to Birds of Eastern North America, Second Edition
by David Allen Sibley
Flexi-binding; 465 pages
Knopf/Random House; March 29, 2016
ISBN: 9780307957917
$19.95