I've never done a Book of the Year post. If I were to be honest, it's usually been my fault for procrastinating. But instead, I choose to blame the Handbook of the Birds of the World. Until this past year a new volume in this landmark series has been published annually since I started this website. And it's really hard to argue against any of them being the best bird book of their respective year. So what would be the point?
But I have no such excuse this year. The only question is: Did another book step up to fill the void in 2012? The answer, undoubtedly, is "yes". Without further ado, my choice for the 2012 Bird Book of the Year is…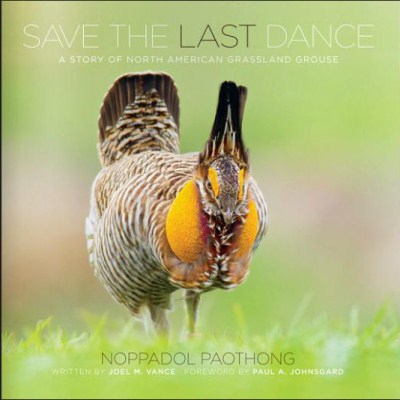 Save the Last Dance: A Story of North American Grassland Grouse
by Noppadol Paothong and Joel Vance
As I mentioned in my review, this book is filled with amazing photographs. It's an enjoyable read as well, letting you really get to know these birds. But all of this, even combined with the fact that this is one of my favorite groups of birds and I was excited for them to get their due, may not have been enough for me to bestow the title of Best Bird Book of the Year on this book. What cinched it is not the book in and of itself, but rather its purpose. The author's stated goal for this book is that it would let people get to know our grassland grouse, and that once they know these birds they would want to protect them. These grouse certainly need all the friends they can get. And I honestly think this book can accomplish that. What's more, over $2,000 has been donated to grouse conservation organizations from the sale of this book.
Save the Last Dance is not only gorgeous and informative, but also a force for conservation of the birds that it so lovingly portrays. To me, that earns it the title of 2012 Bird Book of the Year.
Honorable Mention
The Bluebird Effect: Uncommon Bonds with Common Birds
by Julie Zickefoose

I've heard this book described as "sumptuous". That pretty much nails it. Zickefoose's sketches and paintings – which adorn just about every page – are wonderful to look at, and her essays are even more wonderful to read. In fact, this may be the most enjoyable book I've read in a long time.
My full review of The Bluebird Effect

Cerulean Blues: A Personal Search for a Vanishing Songbird
by Katie Fallon

In this book, the author chronicles her (just slightly obsessive) need to get to know the Cerulean Warbler. It's entertaining, informative, beautifully written, and – like Save the Last Dance – seeks to draw attention to this endangered bird. Like its namesake bird, Cerulean Blues deserves greater attention.
My full review of Cerulean Blues

Petrels, Albatrosses, and Storm-Petrels of North America: A Photographic Guide
by Steve N. G. Howell

This is how all family identification guides should be done! It has tons of great photographs and just about all the information you could want on these seabirds.
My full review of Petrels, Albatrosses, and Storm-Petrels of North America: A Photographic Guide
Posted by Grant McCreary on January 17th, 2013.
Related Posts