When I started birding, I carried a pencil and small notebook into the field to record sightings and make notes. It was a great way to learn, but a little cumbersome. A few years later, I met a birder who dictated sightings into a cassette-based voice recorder. How cool was that! Well, not the cassette part. So I bought a digital voice recorder with a remote mic. I could keep the device in my pocket, clip the mic to my binocular strap, and be able to record notes without ever lowering my binoculars. Plus, it could record bird sounds in a pinch. I love that thing and never imagined that I could bird without it.
And then comes the iPhone with all its wonderful apps. Smart phones and listing-keeping applications seem to be made for each other. It's very convenient to keep your list on a device that you always have handy. Although I still use my trusty voice recorder from time to time, I've pretty much fully switch over. If you have an iPhone or iPod Touch, I highly recommend using one of these apps. But which one? I'll briefly describe and compare the iPhone listing apps that I've used. (Note, some of these are also available on Android phones, but I haven't used those versions.)
First, all of these apps will obviously let you record which birds, and how many, you see. They will also email lists, export them in a format acceptable to eBird, and keep a rudimentary life list.

$9.99

Website

Worldwide version ($19.99)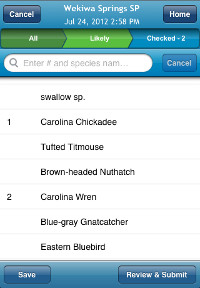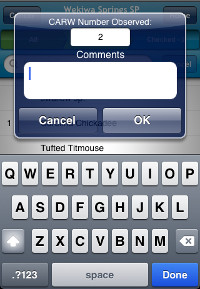 The Good
Submits directly to eBird
Very fast to enter data in the field, unless you want to note male/female, etc (see below)
Records your location with GPS, or you can use eBird hotspots
The Bad
Not as fully featured as some other apps. For example, it uses GPS to note your location, but you cannot tag the location of individual birds.
Besides the count, you can only enter text notes for sightings. There isn't any way to easily keep track of male/female, age, heard-only, etc. You can enter that as a note, but it takes longer and is more cumbersome than it should be
Expensive, especially for the worldwide version
Requires the use of eBird (but aren't you doing that anyway?)
Birdlog is very easy to use (especially after figuring out some shortcuts). I thought the disappointing support for noting details about a sighting would be a deal-breaker for me. But although I hope it will eventually be added, it hasn't been a very big deal. The speed with which you can enter sightings in the field and the convenience of direct uploads to eBird more than make up for the app's shortcomings.
Birdlog does not include any life list features within the app. However, once you get your sightings into eBird, you can manage your lists there. This app also does not support any export options other than eBird. But again, you can do that from eBird. This is why I mentioned that Birdlog requires the use of eBird in the Bad list above. As I see it, this isn't really a knock on Birdlog – the app was designed to be a mobile interface to submit sightings to eBird. So this is more of something to be aware of rather than a flaw in the app.

$12.99

Website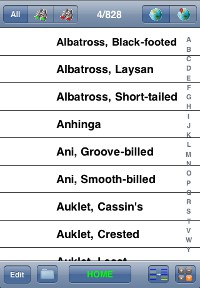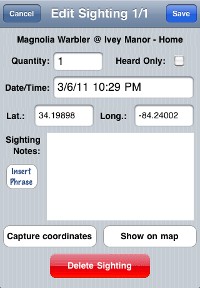 The Good
The most powerful and fully featured list-keeping app
Can submit directly to eBird
Usable worldwide
Flexible and extensible – can import lists for anywhere and of anything, not just birds (i.e. mammals)
Keeps track of time and can record GPS location
Export lists as Google Earth KML
Uses iTunes for backup, or can upload to ftp sites
Life list functionality relatively robust
The Bad
Price
Complicated
Runs through battery quickly if GPS is being used
Cumbersome to separately count by gender, age, and plumage
Birdwatcher's Diary is the most powerful listing app I've used. By downloading and installing lists, it can be used anywhere and for just about anything. The filtering capabilities seem especially well-suited to bird surveys and big days. The life list feature has options, unlike most other apps, so you can have it tell you what birds you've seen in a given location, time period, etc. You can count different "types" of the same bird individually (male/female, subspecies, etc), but it takes much more effort than in birdcountr.
However, this is not the most intuitive app. I had to actually read the manual to figure out how to use it. But the good news is that the manual is a fairly good and easy-to-follow tutorial that walks you through the myriad features.

$4.99

Website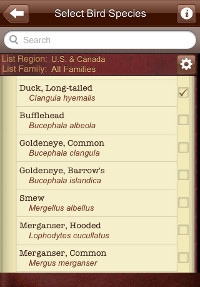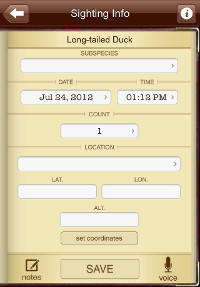 The Good
Easy to use
Worldwide coverage
Can record GPS coordinates
Can keep track of age, sex, subspecies, and even add voice memos – just about everything
Species search is very quick and easy
The Bad
Takes more button pressing (and thus time) to record sightings
You have to manually enter subspecies and location information
I've found Lifebirds Journal to be very easy to use. You can start it up and begin logging sightings immediately without reading any documentation whatsoever (although I'd still recommend going through the help and tutorial available on their website). I like to keep track of "identifiable forms" within species. That is, I keep a separate count for male/female, immature, subspecies, etc. Lifebirds can do that for you.
This app offers a lot of options, but there is a big problem: entering a sighting requires way too much button tapping. To record the most simple sighting – a single bird, without GPS coordinates – requires five taps. And if you're recording multiple birds, especially of different ages or sex, it can easily require twice as many taps. I find that to be too much time and effort in the field.

$2.99

Website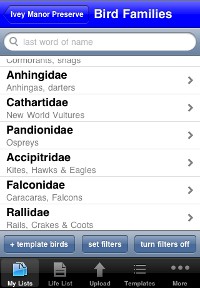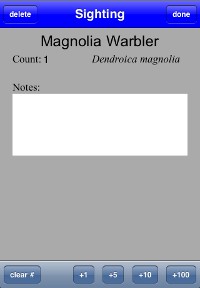 The Good
Usable worldwide, with preloaded lists for states and countries
Simple, fairly quick data entry
Price
Exports to Birdstack, and uploads to box.net for backup
The Bad
No easy way to separately count by gender, age, and plumage
Does not use GPS to record location
Lack of smart scrolling bar makes it more inconvenient to scroll through a long list of families or species
Of these listing apps, My Bird Observations is the most basic. It will automatically note the start time for each trip, but if you want to record other details (duration, county, etc) you must enter them manually. It does not use GPS. But it is easy, quick, and intuitive to use. The only way to keep track of different types (male/female, etc) is to manually type notes for the species.
Recommendation
First, check out each of these apps' website. Many of them offer demos and walk-throughs that, while not as good as hands-on experience, will still give you a feel for what the apps are like.
All of these apps will allow you to record the birds you see and create bird lists that can be uploaded to eBird. But ultimately, the one that is right for you depends on your needs. If you need a quick and easy way to count birds, without worrying about recording GPS or various "types", then My Bird Observations or Lifebirds Journal should work fine. If you think you'll take advantage of its advanced features, then Birdwatcher's Diary may be the best choice. And if getting your sightings into eBird is your primary concern, then BirdLog is your app.
Update 8/4/2012: Birdwatcher's Diary, as of the latest update, can now submit directly to eBird. As soon as I'm able to test it out, I'll update this page again.
More Bird Apps
Disclosure: The apps reviewed here were complementary review copies provided by the developers.
Posted by Grant McCreary on March 9th, 2011.
Related Posts