Is there a group of birds with more field guide representation than raptors? It's not hard to understand why, just think of the words commonly used to describe them: Majestic; fierce; enthralling. Confusing. Is there anything more frustrating than that speck in the sky that just won't come close enough to identify? Well, how about the accipiter or juvenile buteo that just sits there for you, but you still can't tell what the heck it is? So it's definitely worthwhile to have a specialized guide for birds of prey. But such guides come in almost as many variations as Red-tailed Hawks. Which one (or ones) should you get?
In this comparison, I'll briefly go over each of the major field guides to North American raptors, and then end with some recommendations. (Unless otherwise mentioned, each of these include the 34 raptors that routinely breed in the United States and Canada.) Let's start with the newest…
by Richard Crossley, Jerry Liguori, and Brian Sullivan
Princeton University Press; 2013
$29.95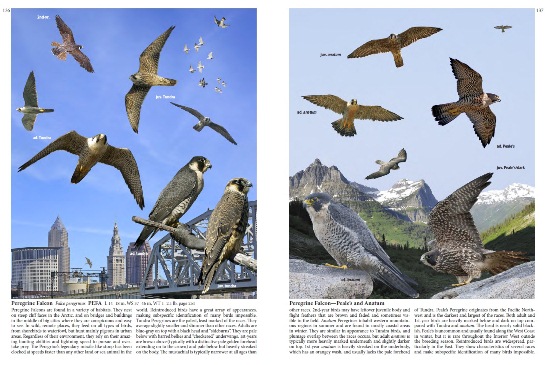 Highlights
Similar format as The Crossley ID Guide: Eastern Birds
32 double-paged "mystery photos", where you can practice identifying and/or ageing raptors
Includes, by far, the most photos of each species, on average
Relatively extensive species accounts
Richard Crossley takes the unique format introduced in his Eastern Birds guide and expands upon it. Every bird (except Aplomado Falcon) gets at least two pages devoted exclusively to it (Red-tailed gets ten!), plus inclusion in one or more of the mystery photos. These plates, where numbered images of different species are grouped together, are my favorite feature. With the answers in the back, they afford great practice at identification and provide the easiest way to compare species against each other. The Crossley raptor guide's insane number of photos and innovative design make it fun to study raptors.
by Pete Dunne, Clay Sutton, and David Sibley
Houghton Mifflin Harcourt; 2012
$26.00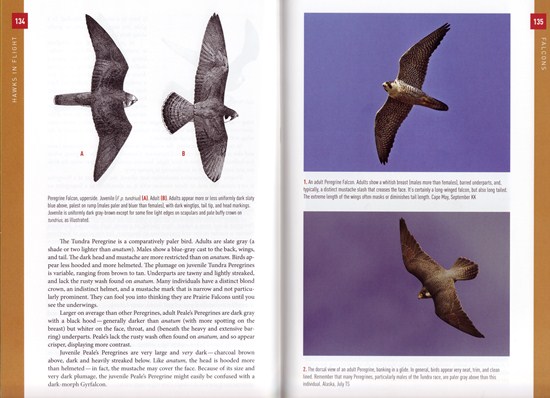 Highlights
Wonderful text from Pete Dunne
Drawings by David Sibley
Photographs with some great captions
This guide, first published in 1988, is a classic. Now in its second edition, complete with color photos and added species, it's even better. The photos are nice, and you can learn a great deal about hawk ID just by reading their captions. But it's the text and drawings that set this book apart. Sibley's drawings are black-and-white, but that's not a bad thing – it helps draw attention to pattern and shape, the most important aspects for identifying hawks in flight. And the text…well, let's just say that it's not only the most helpful but is actually fun to read!
Full review of Hawks in Flight: Second Edition
by Jerry Liguori
Princeton University Press; 2005
$19.95
by Jerry Liguori
Princeton University Press; 2011
$19.95
Highlights
The most extensive collection of in-flight hawk photos
Wonderful composite plates of both single and multiple species
Only includes birds most likely to be seen migrating (so no Gray Hawk, Snail Kite, etc)
I'm treating these together because they seem like one book that was published in two parts. Both deal exclusively with in-flight raptors that are likely to be encountered at hawkwatches. Angle uses the larger, more close-up views that you're used to. But Distance features birds that are smaller and more distant. Combined, they contain more photos of each bird than even Crossley. Both include some really helpful composite plates. The text is fairly brief and to the point. Their unique approach and features make them invaluable to hawkwatchers.
Full reviews of Hawks from Every Angle and Hawks at a Distance
by William S. Clark and Brian K. Wheeler
Houghton Mifflin Harcourt; 2001
$22.00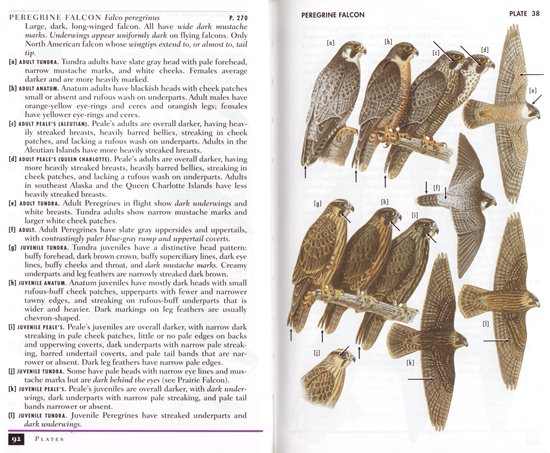 Highlights
Illustrated with both paintings and photographs
Includes 12 vagrants not found in most other guides (i.e. Roadside Hawk and White-tailed Eagle)
Relatively extensive species accounts
The paintings are the primary illustrations, depicting just about any variation and pose you could want. And since this is part of the venerable Peterson field guide series, there are arrows pointing out what to look for. I'm not a big fan of the illustrations, though; they just look off to me. The photos are a nice supplement, but they are relatively few and small. The text includes a good bit of information, mostly related to identification.
by Brian K. Wheeler and William S. Clark
Princeton University Press; 2003
$29.95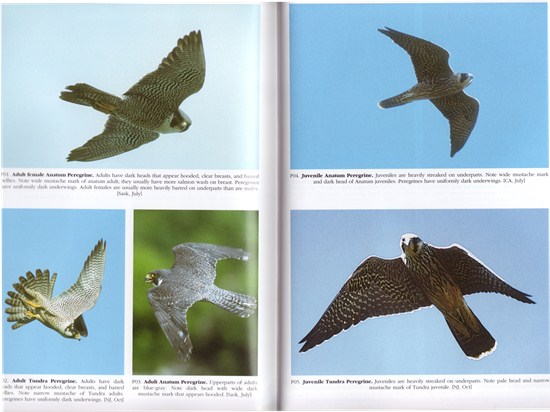 Highlights
Photos of birds both perched and in-flight (though fewer than most other guides)
Side-by-side comparisons of similar species
Includes 9 vagrants
This was intended to be a supplement to the authors' Peterson guide, but in hindsight seems more like the forerunner to Wheeler's later guides (see below). Unlike those, this one is more portable and field-usable. But it also includes far fewer photos (and of lesser quality) and briefer text. It's still a decent guide, but is definitely showing its age.
by Brian K. Wheeler
Princeton University Press; 2003
$$$$ – out of print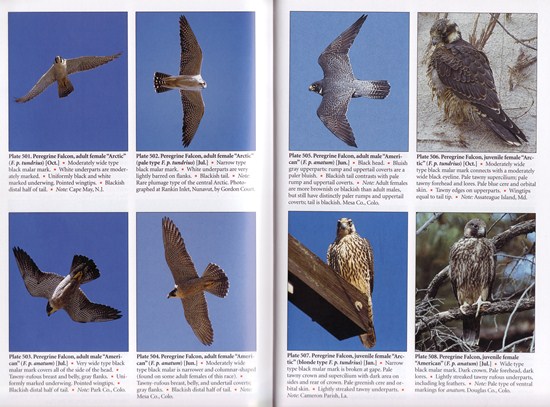 Highlights
Very extensive species accounts
Large selection of nice photos, including perched and in-flight
Largest, most detailed range maps that I've ever seen
Excellent reference
Despite being "just" a decade old and published in both hardcover and paperback, the Wheeler Guides are now out of print and command big bucks on the secondary market ($100+ each!). So I hesitate to include them here, but they're just too good to leave out! These are the best raptor references that you will find. The text is exhaustive (and exhausting, honestly), the range maps incredible, and the photographs plentiful. You know I love my bird books, but it says a lot that I still have my Wheeler Guides despite the price I could get selling them.
Full review of The Wheeler Guides
Recommendation
This may sound surprising (or like a cop-out), but each – well, most – of these guides have a place in your library depending on your needs. In my opinion, the best in general are Crossley and Hawks in Flight. I would recommend them to any birder, largely because I think they're the easiest to study and learn the basics of raptor ID. If you're looking for a guide to North American raptors, start with these.
If those are the best guides to study beforehand, the Wheeler Guides are where you would turn if you have a question or want to work out a difficult ID. If you can find your region's volume for a reasonable price, get it.
Of all these guides, Jerry Liguori's Hawks from Every Angle and Hawks at a Distance are the ones most targeted toward those who consider themselves hawkwatchers. If you spend much time at all around hawkwatches, you will want these two books. Other birders can certainly use them too, of course, but they aren't as essential as Crossley and Hawks in Flight.
That leaves the Peterson and photographic guides by Clark and Wheeler. While they can still be helpful for raptor identification, they are older and have now been surpassed by the others listed here. Looking back, it's amazing to see how much raptor photography has improved in such a relatively short time.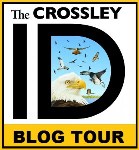 This post is part of the Raptor Blog Tour coinciding with the release of The Crossley ID Guide: Raptors. Be sure to check out all the other posts celebrating these wonderful birds.
Disclosure: The books included here were complementary review copies provided by the publishers, with the exception of Hawks from Every Angle, Peterson, and the Wheeler Guides.
Posted by Grant McCreary on March 21st, 2013.
Related Posts