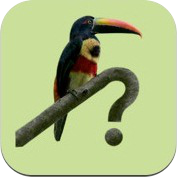 Costa Rica Birds Field Guide
$19.99
From Birding Field Guides:
Full-featured birding field guide for Costa Rica, including bird photographs, individual bird range maps, vocalizations, field marks, description, habitat. Additional features include comprehensive filter choices, sorting options, personal notes, camera, email notes and photos.

Features include:

Over 400 Costa Rica species
Quality photographs for each bird
Extensive search / filter
Range map for each bird
Description, field marks, habitat for each bird
Bird Sounds
Personal notes
Email notes
Camera
There's not a whole lot of information about the app on itunes or the developer's website (but there are a few more details at Costa Rica Living and Birding). But there is a free Lite version that you can check out. This is the first field guide app to anywhere in Central America that I'm aware of, so even if it doesn't turn out to be the best app ever it could still be plenty valuable to visiting birders.
Posted by Grant McCreary on February 18th, 2013.
Related Posts