For each of the last three years, we've been treated to a Pete Dunne book exploring a particular season. I've really enjoyed the series and was greatly anticipating the finale this year. But then came the bad news: it's not going to be published. (Queue the cheesy Darth Vader "Noooooooooo!") As disappointing as that was, though, we will still get two new books from Dunne this year.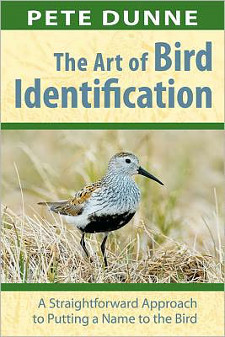 The Art of Bird Identification: A Straightforward Approach to Putting a Name to the Bird

by Pete Dunne
From Stackpole Books:
How to get good, then better, then even better at identifying birds in the field-and have fun doing it
A straightforward approach from Pete Dunne, one of the country's top birders and birding instructors, written in his distinctive style
Includes descriptive information for 75 bird groups to help get the ID process off on the right foot
Practical, expert advice and entertaining in-the-field examples of birding successes and common mistakes
This book is targeted at beginning birders. I'm still reading it, but it's shaping up to be a must-have resource for those just starting out.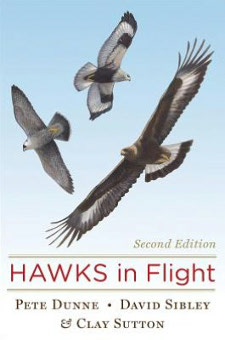 Hawks in Flight: Second Edition

by Pete Dunne, David Sibley, and Clay Sutton
Also from Houghton Mifflin Harcourt:
Among the world's most popular birds, hawks can be some of the most difficult birds to identify. They're most often seen flying high above and at a distance.

In the first edition of Hawks in Flight, Pete Dunne, David Sibley, and Clay Sutton presented a holistic method of hawk identification, using general body shape, the way they move, and the places they are most likely to be seen.

The new edition of the book that Roger Tory Peterson called a "landmark" integrates an array of carefully selected photographs, David Sibley's superb illustrations, and a clear, information-packed text and takes raptor identification to a higher level. This edition covers all of the raptors that breed in North America, including those with limited ranges in Florida, the Southwest, and Texas.

Picking up where its predecessor ended by including two decades of raptor identification refinement, Hawks in Flight summarizes and places in users' hands an identification skill set that used to take years to master. The unique alchemy of Dunne, Sibley, and Sutton—including their collective experience of more than one hundred years watching hawks—make this book a singular achievement and a must-have for anyone interested in hawks.
11 new species (now covers all the birds of prey with established populations in the U.S. and Canada), drawings from David Sibley, and now-in-color photographs make this new edition a worthwhile upgrade.
The Art of Bird Identification: A Straightforward Approach to Putting a Name to the Bird
by Pete Dunne
Paperback; 144 pages
Stackpole Books; September 1, 2012
ISBN: 978-0811731966
$16.95
Hawks in Flight: Second Edition
by Pete Dunne, David Sibley, and Clay Sutton
Hardcover; 345 pages
Houghton Mifflin Harcourt; September 18, 2012
ISBN: 978-0395709597
$26.00
Posted by Grant McCreary on September 10th, 2012.
Related Posts