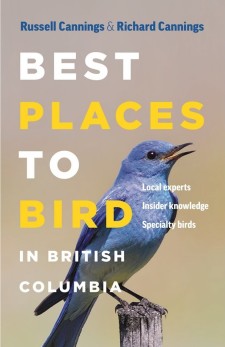 Best Places to Bird in British Columbia
by Russell Cannings and Richard Cannings
From Greystone Books:
In this unique guidebook that will appeal to novice and experienced birders alike, the authors of acclaimed Birdfinding in British Columbia explore their 30 favorite birding sites in the diverse landscape of Canada's westernmost province. More detailed and more personal than the Cannings' previous books, and illustrated with more than 30 color photographs of birds and locales, and 28 maps, Best Places to Bird in British Columbia introduces some sites that will be familiar favorites for readers, while others may come as a surprise.

Readers can choose their destination by species—each chapter has a list of "Specialty Birds," the ornithological highlights of a trip to the area in question—or by geography—each chapter is named for its region and includes detailed information not only on how to get there but also on how to make the most of being there. Personal anecdotes, historical background, and ornithological information make this an indispensable guide to exploring the best birding sites B.C. has to offer and learning more about its bird population.
I don't know if I would go so far as to say this guidebook is "unique", as the publisher's blurb does, but this is certainly a different kind of birdfinding guide. But a good different. It's very personal, with the authors sharing their experiences birding these locations, as well as the more traditional information like how to get there, birds to expect, etc. It would certainly be helpful for planning a trip to B.C., though I wish it had more basic information on the province and an annotated list of target birds for someone like me who's never been there. (To be fair, such information may be present in the authors' previous Birdfinding in British Columbia, which I have not seen.)
Best Places to Bird in British Columbia
by Russell Cannings and Richard Cannings
Paperback; 224 pages
Greystone Books; May 16, 2017
ISBN: 9781771641661
$19.25
Buy from NHBS
(based in the U.K.)
Posted by Grant McCreary on May 14th, 2017.