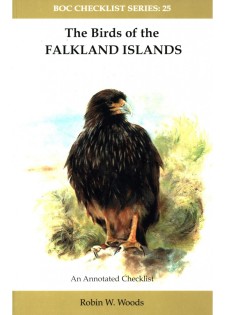 The Birds of the Falkland Islands: An Annotated Checklist
by Robin W. Woods
From British Ornithologists' Club:
This new checklist of the birds of the Falkland Islands is the most comprehensive ever published. Meticulously researched and fully referenced, it represents the culmination of decades of fieldwork by the author and others. It brings together everything that is known about the status and distribution of birds in this fascinating archipelago.

A full introduction covers all the expected biogeographical and ecological ground, with strong emphasis on the history of human–avian interactions and the development of wildlife conservation – both among the author's special interests. The systematic list covers all 205 species whose occurrence in the Falklands is well-evidenced, plus another 54 species that require further confirmation. Seven appendices and 32 pages of colour photographs complete the work. This definitive account of Falklands birds will be an essential reference for all those with an interest in the amazing wildlife of the South Atlantic.
This is not a field guide. There are 32 pages of nice color photographs, but if you are only interested in identifying the birds you see in the Falklands, this is not the book for you. If, however, you are at all interested in the birds of the Falklands, then this is most definitely a book that you want. The species accounts are highly detailed, focusing on the status and background of the bird in the Falklands. The introduction is detailed as well, covering the islands' geography, habitats, human impacts, ornithological history, avifauna, and more.
The Birds of the Falkland Islands: An Annotated Checklist
by Robin W. Woods
Paperback; 288 pages
British Ornithologists' Club; August, 2017
ISBN: 9780952288664
£29.99
Posted by Grant McCreary on September 9th, 2017.