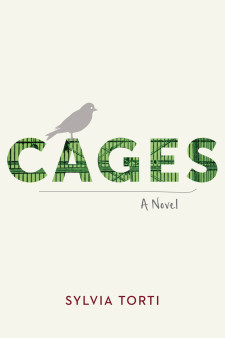 Cages
by Sylvia Torti
From Schaffner Press:
Two neurologists are engaged in divergent quests: one to locate the source of memory and the other to study speech patterns in humans by analyzing and manipulating bird vocalization. Both men use experiments on live songbirds in a laboratory on a university campus, and both become romantically intertwined with a woman lab assistant who takes issue with their methods. Overshadowing this trio are significant figures from their individual pasts—a distant mother, a former girlfriend, a best friend and ornithological expert who dies tragically while conducting field research in the Amazon, and a mentor turned lover and nemesis. This is a subtly layered novel rich in natural description and sense of place that grapples with serious philosophical and moral themes, peopled by characters who must confront the emotional truths in their lives in order to be released from their own, individual cages.
It's nice, every now and then, to read something different. And this novel certainly looks different from the bird books I normally read. But it does still have birds!
Cages
by Sylvia Torti
Paperback; 302 pages
Schaffner Press; May 1, 2017
ISBN: 9781943156184
$16.95
Posted by Grant McCreary on August 1st, 2017.