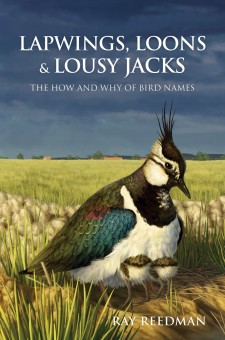 Lapwings, Loons and Lousy Jacks: The How and Why of Bird Names
by Ray Reedman
From Pelagic Publishing:
The Lapwing once had many regional names; the Loon has a British-American identity crisis and the respectable-sounding Apostlebird is often called a Lousy Jack. Why do bird names, both common and scientific, change over time and why do they vary so much between different parts of the English-speaking world? Wandering through the scientific and cultural history of ornithology takes us to the heart of understanding the long relationship between birds and people.

Lapwings, Loons and Lousy Jacks uncovers the stories behind the incredible diversity of bird names, explains what many scientific names actually mean and takes a look at the history of the system by which we name birds. Ray Reedman explores the natural history and folklore behind bird names, in doing so unlocking the mystery of the name Scoter, the last unexplained common name of a British bird species.
This isn't exactly a new book, but I just now started in on it and wanted to call attention to it. While the author presents the origins and meanings behind many bird names, this is not meant to be an encyclopedic reference. Rather, he takes us as his interest and experience leads. Since he's British, that means most of the birds he discusses are European, although you will also find some from North America, Trinidad, and Australia – all places he has visited. As a consequence, the coverage is very uneven and perhaps of less interest to those in areas not well covered. But this approach is also more personal, more conversational, and as such much more interesting to read than a strict reference.
Lapwings, Loons and Lousy Jacks: The How and Why of Bird Names
by Ray Reedman
Hardcover; 304 pages
Pelagic Publishing; October 15, 2016
ISBN: 9781784270926
$29.99
Posted by Grant McCreary on March 18th, 2017.