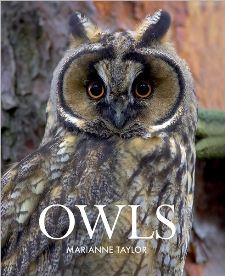 Owls

by Marianne Taylor
From Cornell University Press:
From tiny Elf and Pygmy Owls through the familiar Tawny and Barn Owls to the giant Eagle and Fish Owls, these fierce hunters of dawn, dusk and night have long held a fascination for people around the world. This informative book, covering all owl species found in the northern hemisphere, looks closely at how owls live their lives, and how best to recognize them.

The first part of the book looks in detail at owl biology: how they live, how they breed, and how they feed. The second part includes species accounts for all 47 species of owls that occur in the northern hemisphere, with emphasis on those of Europe and North America. The book is richly illustrated with sensational, full-color photographs of these compelling birds.
The owl family, already well represented by books, gets another entry. The main difference from previous books (such as Owls of North America) is that this one includes species accounts for all the owls of North America, Europe, and most of Asia (the Holarctic region). And it is liberally illustrated with some very nice photographs. Still, that's not enough to recommend it to those who already have one or more similar owl books. But for those who don't, this would be a good addition to your library.
Owls
by Marianne Taylor
Hardcover; 224 pages
Comstock Publishing Associates (Cornell University Press); November 6, 2012
ISBN: 978-0801451812
$35.00
Posted by Grant McCreary on December 15th, 2012.
Related Posts