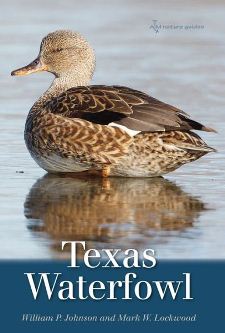 Texas Waterfowl

by William P. Johnson and Mark W. Lockwood
From Texas A&M University Press:
In this beautifully illustrated guide, two practicing wildlife biologists describe the life histories of forty-five species of ducks, geese, and swans that occur in Texas. For common species and those that breed in the state, each account begins with an interesting fact (such as, "Red-breasted Mergansers have been clocked at over 80 mph, the fastest recorded flight speed for a duck…") and provides information on Texas distribution and harvest, population status, diet, range and habitats, reproduction, and appearance.

Exquisite photographs, informative distribution maps, and a helpful source list accompany the species descriptions, and the book offers a glossary and full bibliography for those who want to explore the literature further.

With the degradation and disappearance of the inland and coastal habitats that these birds depend upon, the natural history of these waterfowl species provides a vital reminder of the interconnectedness and crucial importance of all wetlands.

Birders, biologists, landowners, hunters, outdoor enthusiasts, and all those interested in the health and preservation of our coastal and inland wetland resources will enjoy and learn from this book.
Although it has some nice photos, this book is more useful as a natural history guide than for identification. Any Texas birder (or hunter or any of those other groups listed above) who wants to know more about their waterfowl should check it out.
Texas Waterfowl
by William P. Johnson and Mark W. Lockwood
Flexicover; 187 pages
Texas A&M University Press; January 15, 2013
ISBN: 978-1603448079
$25.00
Posted by Grant McCreary on February 4th, 2013.
Related Posts