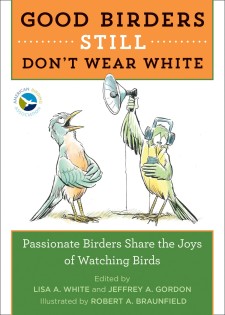 Good Birders Still Don't Wear White
edited by Lisa A. White and Jeffrey A. Gordon
From Houghton Mifflin Harcourt:
Avid North American birders share wit, wisdom, advice, and what fuels their passion for birds.

Birding gets you outside, helps you de-stress, exercises your body and mind, puts your day-to-day problems in perspective, and can be lots of fun. Birders know this, and in this collection of thirty-seven brief essays, birders from diverse backgrounds share their sense of wonder, joy, and purpose about their passion (and sometimes obsession).

From the Pacific Ocean to Central Park, from the rainforest in Panama to suburban backyards-no matter what their habitat, what good birders have in common is a curiosity about the natural world and a desire to share it with others. In these delightful essays, each accompanied by an endearing drawing, devoted birders reveal their passion to be fulfilling, joyful, exhilarating, and maybe even contagious.

Contributors include many well-known birders, such as Richard Crossley, Pete Dunne, Kenn Kaufman, Michael O'Brien, Bill Thompson, and Julie Zickefoose.

A portion of the proceeds goes to the American Birding Association, North America's largest membership organization for active birders.
Like its predecessor, Good Birders Don't Wear White, this book is filled with essays covering a gamut of birding-related topics. It has something for any birder – lots of tips, of course, but also encouragement to try something new, from pelagic trips to county listing to sharing your knowledge with new birders. This is a fun little book!
Good Birders Still Don't Wear White
edited by Lisa A. White and Jeffrey A. Gordon
Paperback; 288 pages
Houghton Mifflin Harcourt; March 14, 2017
ISBN: 9780544876095
$13.95
Buy from NHBS
(based in the U.K.)
Posted by Grant McCreary on March 25th, 2017.