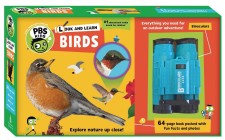 Look and Learn Birds / Insects (PBS Kids)
by Sarah Parvis and PBS Kids
From Downtown Bookworks:
A simple, fun, fully-illustrated introduction to birds comes packaged with kid-friendly binoculars to encourage kids to explore the natural world around them.

The clear, easy-to-follow reference is designed for a young audience with large pictures and minimal text highlighting the most interesting things to notice about the most common birds in North America–ones that kids would easily spot in their own backyard or local park. The book also highlights features and behaviors children can look for when they observe birds up-close (with the binoculars that come in the kit). In addition, the guide suggests fun, educational activities such as making a hummingbird feeder, or homemade bird treats to attract feathered friends. A portable checklist is included to help children identify common birds when they're out birding, and there is a colorful, interactive poster as well. An engaging resource for budding naturalists, this kit will also get kids exciting about experiencing nature up-close.

This delightful kit comes with:

64-page book packed with bright, informative photos and simple tips for spotting and identifying common birds
a pair of easy-to-use binoculars
a portable laminated list of common North American birds
an activity poster that encourages observation and creativity
The insect kit includes a magnifier jar, in addition to a book and poster.
These kits are ideal for children (approximately 4-9 years old) who are interested in nature (or who you'd like to get interested in nature!). The books are not field guides so much as introductions to these groups, with lots of interesting facts and guidance as to what to look for. The binoculars included in the bird kit is more of a novelty item than useful tool, they're the same as those you'd get at zoo gift shops. In other words, if the child is legitimately interested in birdwatching you'll need to get actual binoculars. The jar, on the other hand, actually works pretty well.
Younger kids should love these kits. In fact, I would have posted about these much earlier, but my kids appropriated them as soon as they were opened!
Look and Learn Birds / Insects (PBS Kids)
by Sarah Parvis and PBS Kids
Paperback; 64 pages each
Downtown Bookworks; August 30, 2016
ISBN: Birds: 9781941367292; Insects: 9781935703853
$19.99 each
Posted by Grant McCreary on January 21st, 2017.