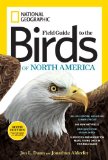 National Geographic Field Guide to the Birds of North America, Sixth Edition

by Jon L. Dunn and Jonathan Alderfer
From the publisher:
For beginning and experienced birders alike, this is the most comprehensive bird guide available anywhere—now lavishly redone with a refreshed design; 300 new illustrations; 23 new-to-North America species; major updates in text with the latest taxonomy and science; range maps with all-new migration overlays; 40 subspecies maps (unique to this guide); fully annotated illustrations with field marks; and an ultra-convenient visual index on the inside flaps.

National Geographic's flagship bird guide is essential for bird identification—authoritative, portable, sturdy and easier than ever to use—a birding bible for all bird lovers.
This new edition adds some undeniably cool features to the venerable NatGeo field guide, such as subspecies range maps, and separate colors on maps to indicate spring, autumn, and 'both' migration routes (first time I've seen that). But is it worth upgrading? Be on the lookout for a detailed list of changes and additions that will hopefully help answer that question. [Update: here is that list – National Geographic Field Guide to the Birds of North America, Sixth Edition – Initial Review]
Posted by Grant McCreary on October 25th, 2011.
Related Posts