Here are two new, great-looking, and big(!) guides: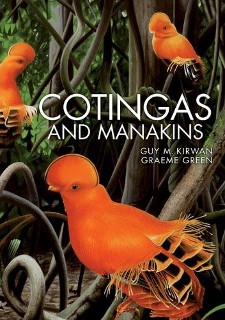 Cotingas and Manakins

by Guy M. Kirwan and Graeme Green
From the publisher (Princeton University Press):
The New World tropics are home to the richest avifauna on the planet, with more than 4,000 species, many of them endemic. Two groups found exclusively in this region are the cotingas and the manakins. Few other families of birds have such widespread appeal. They are much sought after by birders for their colorful displays, unusual plumages, and, in some cases, great rarity. Their natural history and behavior offer fascinating case studies for evolutionary biologists, while the intriguingly elusive relationships of these birds are of profound interest to taxonomists.

Cotingas and Manakins is the definitive work on these jewels of the Neotropics, covering more than 130 species. These range from some of the rarest and most enigmatic birds in the world to some of the best studied of all tropical species. Many are breathtakingly colorful and ornate while some are plain and difficult to see. This stunning volume features 34 color plates by Eustace Barnes, who has observed many of these species in the field, as well as distribution maps and approximately 400 color photographs that cover all but a tiny handful of species. Complete with detailed species accounts describing key identification features, Cotingas and Manakins is the authoritative illustrated guide to these magnificent Neotropical birds.

Covers more than 130 species of cotingas and manakins
Features 34 color plates and about 400 color photos
Includes detailed species accounts and distribution maps
The must-have illustrated guide to these colorful and exotic birds
This is a gorgeous book, with both painted plates and photographs. This is easily one of the most attractive family monographs that I've seen.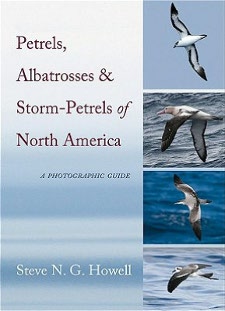 Petrels, Albatrosses, and Storm-Petrels of North America: A Photographic Guide

by Steve N. G. Howell
From the publisher (Princeton University Press):
Petrels, albatrosses, and storm-petrels are among the most beautiful yet least known of all the world's birds, living their lives at sea far from the sight of most people. Largely colored in shades of gray, black, and white, these enigmatic and fast-flying seabirds can be hard to differentiate, particularly from a moving boat. Useful worldwide, not just in North America, this photographic guide is based on unrivaled field experience and combines insightful text and hundreds of full-color images to help you identify these remarkable birds.

The first book of its kind, this guide features an introduction that explains ocean habitats and the latest developments in taxonomy. Detailed species accounts describe key identification features such as flight manner, plumage variation related to age and molt, seasonal occurrence patterns, and migration routes. Species accounts are arranged into groups helpful for field identification, and an overview of unique identification challenges is provided for each group. The guide also includes distribution maps for regularly occurring species as well as a bibliography, glossary, and appendixes.

The first state-of-the-art photographic guide to these enigmatic seabirds
Includes hundreds of full-color photos throughout
Features detailed species accounts that describe flight, plumage, distribution, and more
Provides overviews of ocean habitats, taxonomy, and conservation
Offers tips on how to observe and identify birds at sea
A long-awaited guide to these fascinating, but confusing, seabirds. I can't wait to use this on a pelagic trip in two weeks!
Cotingas and Manakins
by Guy M. Kirwan and Graeme Green
Hardcover; 624 pages
Princeton University Press; February 5, 2012
ISBN: 9780691153520
Petrels, Albatrosses, and Storm-Petrels of North America: A Photographic Guide
by Steve N. G. Howell
Hardcover; 506 pages
Princeton University Press; January 24, 2012
ISBN: 9781400839629
Posted by Grant McCreary on January 17th, 2012.
Related Posts