This weekend is the Colonial Coast Birding and Nature Festival on the Georgia coast. Every year I eagerly look forward to a few days of intense birding, especially on the barrier islands. And this year there's another reason – Pete Dunne is the keynote speaker! Dunne has long been one of my favorite authors, and I'm really looking forward to meeting and birding with him.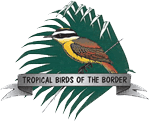 And then next month is the Rio Grande Valley Birding Festival, based in Harlingen, Texas. I've heard great things about this festival, and I can't wait to bird the valley again. Of course the birds will be great, and to top it off, Kenn Kaufman will be speaking. Dunne and Kaufman less than a month apart – does it get any better for a bird book geek…er, enthusiast?
Posted by Grant McCreary on October 7th, 2008.
Related Posts