I was first introduced to Richard Crossley's striking photographic bird plates nearly two years ago. A post on 10,000 Birds linked to Crossley's gallery and asked if this could become North America's best identification guide. A year later, Princeton University Press announced that they would publish The Crossley ID Guide. The sample plates were unique and utterly amazing. I couldn't wait to see the book for myself.
In the past month, the buildup to the book's publication has seen more plates revealed, video interviews with the author, and a few early reviews. I was starting to wonder if it would live up to my lofty expectations. Finally, the day came when I had in my hands The Crossley ID Guide: Eastern Birds
.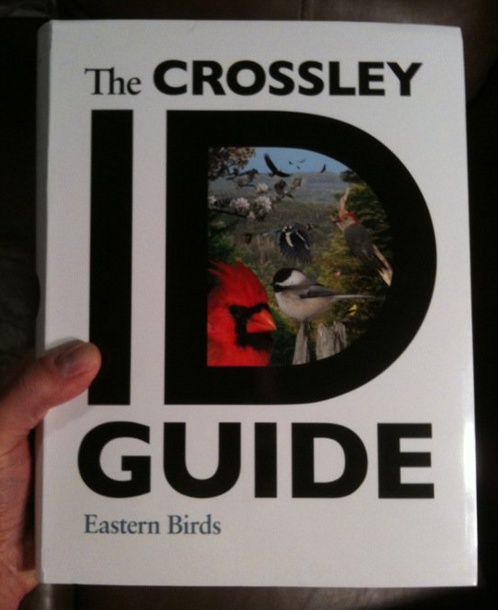 After my initial look-through, I was distinctly…whelmed. I neither loved nor hated it. I still appreciated the reality birding concept that Crossley was going for, where the birds are shown as a part of a lifelike scene in their actual habitat, at various distances, and in all sorts of plumages. But maybe the novelty of the plates was starting to wear off. Some of them also looked "off" somehow, in a manner that I couldn't quite articulate.
But as I continued through the guide, I started looking at the images more closely. I found myself trying to find all of the birds in each scene, which is not as easy as it sounds. It's not unusual for songbird plates to have as many as 15 (or more) representatives portrayed. I also started to notice some small details, such as the House Finch that had conjunctivitis. Some images also showed behaviors that aren't usually mentioned in field guides, much less actually illustrated, like a Rough-legged Hawk perched on a limb that looks much too small to support it, or a Blue-winged Warbler poking its head into a cluster of dead leaves.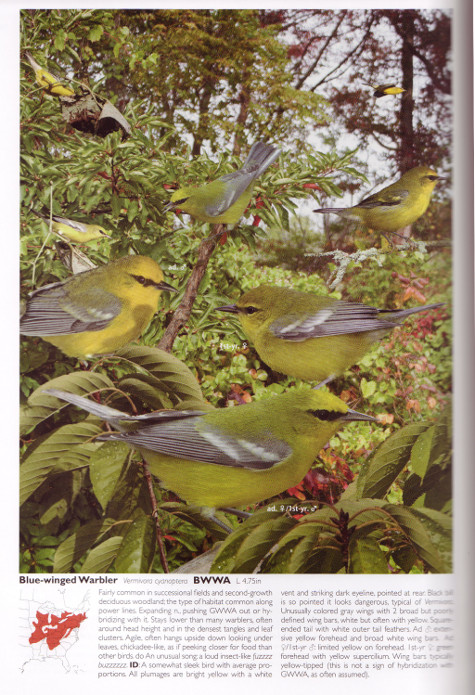 I had to further reconsider some initial impressions when I read Crossley's blog posts explaining some choices concerning color and sharpness in his images. To keep the plates as realistic as possible, many of them are darker and less sharp than photos we're used to seeing in field guides. I realized that was the main source of my nebulous consternation regarding the images. Once I understood what was being attempted, it bothered me much less. However, there are some images that still seem too dark, like the Bay-breasted Warbler below. The lighting may accurately reflect the conditions in the spruce-bogs where they breed but, call me crazy, I'd like to be able to see at least one of the breeding males well.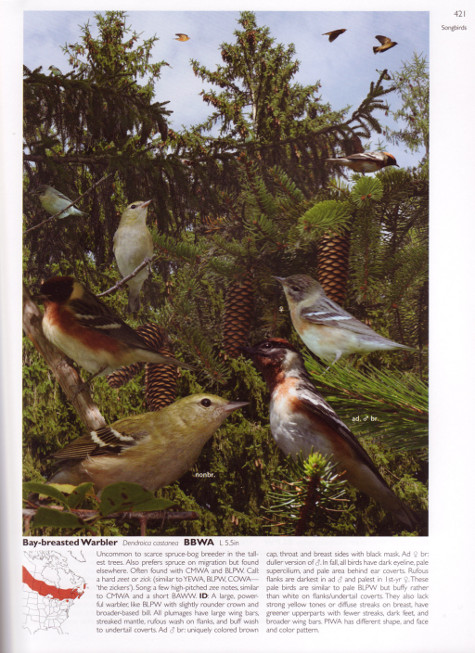 The text, overshadowed by the images literally and figuratively, is more extensive than it appears. It covers abundance, behavior, habitat, voice, and identification. It's very informal, and more than once certain phrases or descriptions reminded me of something Pete Dunne would write (a very big complement coming from me). Don't skip it. The range maps are pretty standard, though unfortunately they don't include migratory range.
I should also mention that this thing is huge. You're not going to want to take this in the field with you. But that's ok; everything about this book was designed to be studied at home, before you go birding.
I've got plenty more to say about it, including additional distinctive features and, sadly, some issues. But that's going to have to wait for the full review. The more time I spend with The Crossley ID Guide: Eastern Birds
, the more I enjoy it and the more I learn from it. This is one book that anyone interested in North American birds needs to see.
Continue on to the full review of the Crossley guide.
Posted by Grant McCreary on February 15th, 2011.
Related Posts