Reviewed by Grant McCreary on January 2nd, 2013.
The first edition of Hawks in Flight, published in 1988, is a classic. Nothing short of revolutionary, it has long been considered the hawk-watcher's bible for the way it distills the collective knowledge of the hawk-watching community into a form that the average birder can understand. Now, at long last, the hawk-watching dream team of Dunne, Sibley, and Sutton have given us the new and improved Hawks in Flight: Second Edition
.
Following a short introduction on the flight identification of raptors, this guide covers 34 birds of prey, grouped together as follows:
Buteos That Migrate – Red-tailed, Red-shouldered, Broad-winged, Swainson's, Rough-legged, and Ferruginous Hawks
Accipiters – Sharp-shinned Hawk, Cooper's Hawk, Northern Goshawk
Falcons – American Kestrel, Merlin, Peregrine Falcon, Prairie Falcon, Gyrfalcon
Pointed-winged Kites – Mississippi, Swallow-tailed, and White-tailed Kites
Northern Harrier
Eagles and Vultures – Turkey and Black Vultures, Bald and Golden Eagles
Crested Caracara
Osprey
Southwestern Buteos and Kin – Common Black-Hawk, Gray, Zone-tailed, White-tailed, and Harris's Hawks
Florida Specialties – Short-tailed Hawk, Snail Kite
Regional Specialties – Hook-billed Kite, Aplomado Falcon, California Condor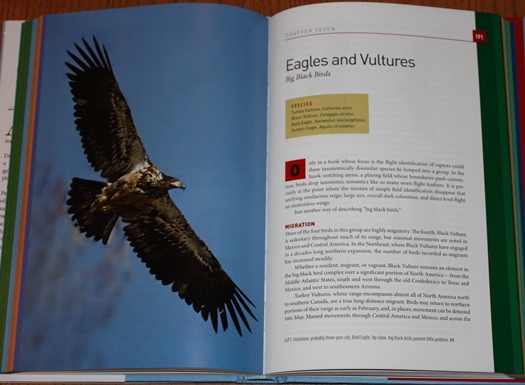 Each grouping has an introduction that gives an overall sense of these birds, including their migratory habits and identification. Following that are species accounts, which go into great detail on identification, especially in flight. But other information – like diet, behavior, and sometimes even tips on how to find one – is also included. Each chapter concludes with what may be the most helpful section, in which the authors detail how to tell these birds apart from one another.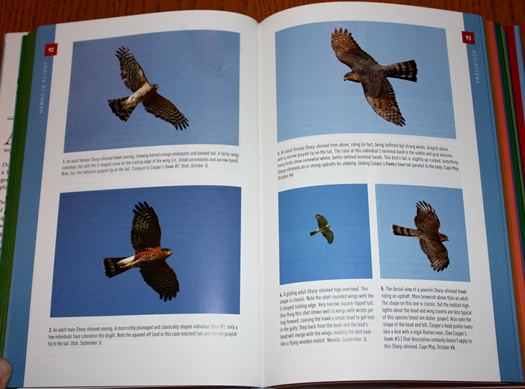 Throughout, Hawks in Flight is illustrated with color photographs and David Sibley's drawings. Each species account concludes with, on average, ten or fewer photos. Each is captioned with the specific features to pay attention to, along with the month and location the picture was taken (if known) and the photographer's initials. In general, the pictures are very attractive and well reproduced, if sometimes a bit too small for my taste. But they don't really distinguish this book from the other photo-based raptor identification guides (especially Hawks from Every Angle).
However, Sibley's drawings DO differentiate this book. He shows each bird, in different plumage variations, from both above and below. There are also some less detailed, more impressionistic drawings, along with head-on flight profiles. All of these are very useful, even if they are in black-and-white. That's right; they are black-and-white pencil and ink drawings. In any other identification guide this would be a detriment. But it works here due to the nature of hawk-watching. The extreme distance that separates most raptors from their watchers, along with lighting conditions, serves to drain the birds of color. So patterns of light and dark are more important than the actual color. Regardless, it's David Sibley!!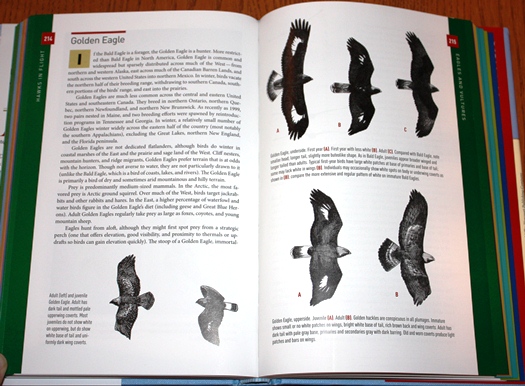 But, in my opinion, the best thing about Hawks in Flight is the text. How many times do you hear that about identification guides? The reason why is simple – it's written by Pete Dunne. I have a hard time reading species accounts in most similar guides unless I'm looking for something in particular. But I could happily open this book to a random page and start reading. Dunne has the hawk-watching expertise to know what to say, and the writing skill to convey it in an interesting manner. Here, read for yourself:
Any furred, feathered, or scaled creature that is smaller than a groundhog and turns its back on a meal-minded Red-tailed is very likely going to be returned to earth as a pellet.
When folded up and gliding, the Short-tailed [Hawk] is fast, shooting across the sky with a speed that seems reckless for a buteo.
Changes from the First Edition
This second edition of Hawks in Flight is a slam-dunk improvement over the now 24-year-old first edition. A big change is the inclusion of 11 additional raptors – regional specialties such as the Snail Kite and Gray Hawk – so that this book now covers all 34 birds of prey that breed regularly in the United States and Canada. But when you open the book, the most obvious upgrade is the use of color. Instead of black-and-white photographs grouped together at the end of the book, there are color pictures throughout.
The text and, especially, Sibley's drawings haven't changed nearly as much. I haven't done an exhaustive comparison, but as far as I can tell all of the original drawings are also here, with very few changes. I did, however, notice a couple new Red-tailed Hawk drawings. Likewise, Dunne has edited his text slightly; I've noticed some additions and other slight changes. All are, in my opinion, for the better with one notable exception. Dunne removed one of the best, and truest, sentences I've ever read: "Few works of nature or man equal the sight of a Peregrine in the wind." Overall then, apart from the new color photos, the species accounts are largely the same as in the initial edition.
Issues
Hawks in Flight doesn't have outstanding issues, but there are a few things I should mention. First, the accounts don't include the species name on every page, even though there is plenty of room to do so in the colored right-hand edge. This makes it more difficult than it should be to quickly leaf through and find a particular bird.
Second, I think this guide would have been better served with flexicover binding (similar to The Shorebird Guide or Sibley guides), rather than cloth-bound hardcover with dust jacket. I think that format works better in the field. (Granted, the authors maintain that this guide is meant to be studied at home rather than in the field.)
Finally, there are no range maps. But while they would be nice to have, I don't think their absence takes away from this book's usefulness.
Recommendation
Hawks in Flight: Second Edition
is not the revolution that the first edition was, but then again, not many books are. Quite simply, whether you're a dedicated hawk-watcher or not, if you don't already have the prior edition then you need to get this guide. However, if you do have an older copy the decision of whether or not to upgrade is more complicated. If you have one of the other recent raptor guides, such as Hawks from Every Angle, and do not need coverage of the regional specialties added to this book, I don't see a pressing need to upgrade. Otherwise, go for it.
Disclosure: The item reviewed here was a complementary review copy provided by the publisher. But the opinion expressed here is my own, it has not been influenced in any way.
Related Posts