Reviewed by Grant McCreary on May 26th, 2011.
There is much more to bird identification than memorizing long lists of field marks. Knowledge of them is important, of course, but there are guiding principles and an underlying way of thinking that may be even more vital. As Kenn Kaufman puts it, you need to understand what you see and hear.
That principle is the driving force behind the Kaufman Field Guide to Advanced Birding
. Kaufman's focus is not only on how to identify birds, but also how to learn to identify birds. He accomplishes this by exploring how to look at and listen to birds in general, as well as the special challenges associated with some difficult-to-identify groups.
The first third of the book covers general identification principles (and pitfalls). You may be tempted to skip straight to a chapter dealing with a group of birds you have difficulty with, but don't put off reading this introductory section for long. It may be the best account of what one needs to know and to do in order to become more proficient at bird identification.
This first section of Advanced Birding also includes an introduction to field ornithology, covering such topics as bird topography, feather structure, and molt. These are more technical (yet necessary) topics, but Kaufman keeps things concise and readable, making this a steppingstone for birders between the basic information sometimes found in field guides and more specialized references. I was especially excited to find a series of photos showing the movement of feathers on an opening wing. I've long been curious about this process, but this is the first time I've ever seen it illustrated.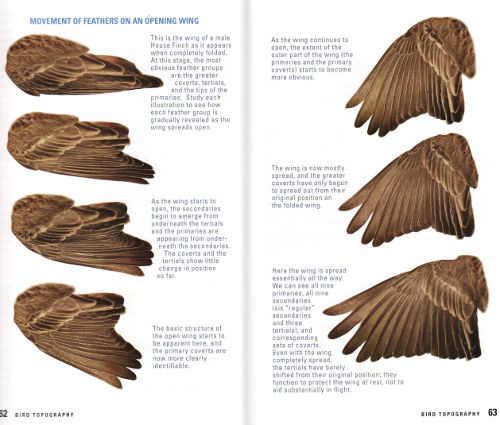 The remainder of the book covers some difficult families in general and a sampling of specific problems plaguing North American birders in detail. The families covered are:
Waterfowl
Seabirds
Herons and Egrets
Diurnal Raptors
Shorebirds
Gulls
Terns
Owls
Hummingbirds
Woodpeckers
Tyrant Flycatchers
Swallows
Warblers
Sparrows
For each of these, Kaufman gives us general points to consider and tells us what to look for, but does not delve much into specific identification quandaries. You will get a much greater reward studying this guide before going into the field than turning to it afterward. Some chapters, like gulls and warblers, are long and cover many topics. Others are quite short (some just two pages).
Initially, I was skeptical of this format. I thought greater attention to specific issues would be more helpful than the overviews. But after reading a few of the family chapters, I was surprised by how useful they were. What am I saying; this was written by Kenn Kaufman – one of our foremost identification gurus as well as exceptional writer – of course they are useful. But pointers on separating particular species can be found elsewhere, the information and framework Kaufman provides here is largely unique.
That said, Advanced Birding does contain ten chapters devoted to species-level identification: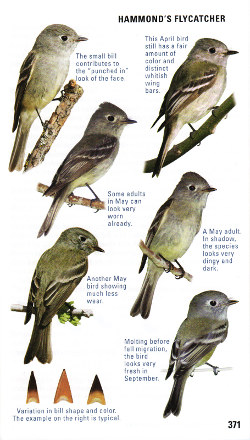 The Scaup
The Winter Loons
The Accipiters
The Small Calidris Sandpipers
The Medium-sized Terns
The Jaegers
The Challenging Small Hummingbirds
The Empidonax Flycatchers
The Blackpoll Trio
The Spizella Sparrows
This book would be worth purchasing just for the 40 pages (!) on empidonax flycatchers. Eleven full-page plates show each of the empids in a variety of positions and plumages, while the text gives you all kinds of useful information.
Changes from Previous Edition
The Kaufman Field Guide to Advanced Birding is essentially a reworking of the author's Advanced Birding
, published under the Peterson Field Guide label in 1990. The most noticeable difference is that while the prior edition was illustrated solely by black-and-white drawings, this new one primarily uses color photographs. But even more fundamental is a change in approach from differentiating problematic species to the general framework for understanding identification present in the new volume. This shift, and the resultant wealth of new material, makes the newer book much more than a simple "second edition". It's more of a supplemental volume than an upgrade. So don't get rid of the older Advanced Birding when you get the new one. Likewise, I would still recommend obtaining the older one for all who don't have it, even if you get this new guide, as it contains much that hasn't been carried over.
Recommendation
Anyone, from beginner to expert, wanting to improve upon their bird identification skills should study the Kaufman Field Guide to Advanced Birding
. Being able to learn from Kaufman is a pleasure and an opportunity that shouldn't be passed up.
Disclosure: The item reviewed here was a complementary review copy provided by the publisher. But the opinion expressed here is my own, it has not been influenced in any way.
Related Posts