Reviewed by Grant McCreary on March 28th, 2016.
The Beatty's Guest Ranch in Southeastern Arizona offers one of the most amazing birding spectacles in North America. There are hummingbird feeders all over the place, and the air is filled with the chirps and incessant, well, humming of countless hummingbirds. Dashing back and forth, flashing iridescent red, blue, and green, it is sensory overload. Birders are simultaneously enraptured and infuriated, because, as opposed to similar setups in the eastern half of the continent where all the birds would be but a single species, these hummingbirds could be from seven, ten, up to 14 different species, some of them looking very similar. So it's wise to have a specialized identification guide for these birds, such as North American Hummingbirds: An Identification Guide.
Like its subjects, this book is small. But it has plenty of room for West to present information and a plethora of illustrations and photographs for 25 hummingbird species that have been reported in the United States and Canada, arranged by the bird's size – large, medium, or small – with a separate section for the "accidentals".
The illustrations, all by the author, are highly standardized. The birds are all positioned identically and arranged in the same manner: first the adult male from the back and front, then the same views of the adult female, and juvenile male and female. They seem very basic, more artificial than the hyper-realistic drawings featured in many guides. But this is not a criticism. No, they aren't excessively life-like, but they do an excellent job of displaying the shapes and color patterns, especially of the tail and throat, necessary to identify these birds. The coloring, which seems like it was done digitally, admirably suggests the bird's iridescence, which is incredibly hard to portray well.
All but a few of the accidental species also get a generous selection of photographs. Many of the photographs are of the wing, tail, or other detail of in-hand birds. I suppose it's possible you could see some of the field marks they depict on free-flying birds, but no one is going to be able to see the pattern of one particular feather on a wing beating 50 times per second! But if you get a really good photo of a hummingbird or, obviously, have the bird in hand, these would be an excellent reference.
The accounts include the following sections of text:
Identification

– sex- and age-independent characteristics

Descriptions of each sex/age class

– Adult Male, Adult Female, Juveniles, Juvenile Male, Juvenile Female

Voice

Similar Species

Distribution

– both range and habitat; worldwide, with a focus on North America

Migration

– timing and route

Courtship and Nesting

– can include courtship displays, nest

Behavior

Nutrition and Molt

– food, including preferred plants; timing of molt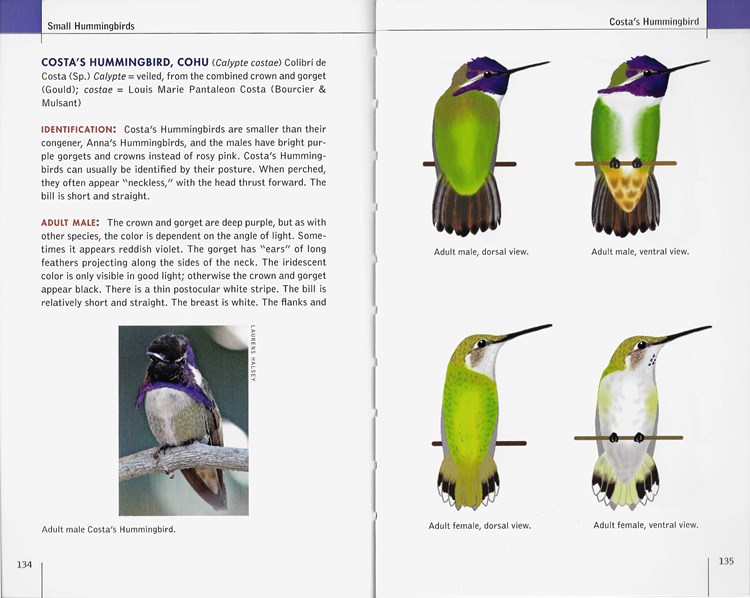 The Voice and Behavior sections are only rarely included, unfortunately. Even Anna's Hummingbird, which have an endearing penchant for perching up and "singing", does not warrant comments on its vocalizations.
The first sentence of the introduction makes it clear that North American Hummingbirds was "designed for birders and banders." To me, it seems more weighted toward the latter. The author is himself a hummingbird bander and co-founder of the Hummingbird Monitoring Network. So he is intimately familiar with what such users would need and, indeed, everything about this guide, from its size to the photos to the appendix of measurements and weights, speaks to the fact that it would be useful to banders. I doubt it will fully replace the Pyle guide, but it is certainly more interesting to look at!
That's not to say birders won't be able to use the guide. Far from it, especially if you have a nice camera that can capture some of the details shown here. But the real question is: how does it compare against other hummingbird ID guides? The two most popular are the Peterson field guide by Sheri Williamson and Hummingbirds of North America: The Photographic Guide by Steve Howell. I don't have the former, so I can't compare that one. But this volume stands up pretty well against the Photographic Guide. It includes one more species than Howell (Antillean Crested Hummingbird) and has more illustrations per species (in the case of a few species, over twice as many, although the average is probably around 50% more). The quality of the illustrations is also slightly better. Howell, however, has a distinct advantage in the textual department, with much more information on sounds, behavior, subspecies, and the like.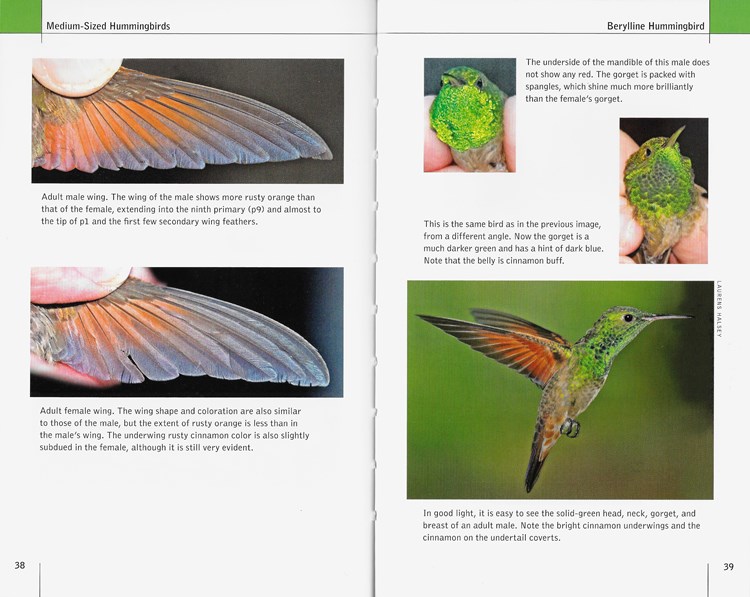 Recommendation
Hummingbirds need their own field guide, and North American Hummingbirds: An Identification Guide is more than adequate for the task. I can see it sitting on the table of many a hummingbird bander. It would be useful for birders as well, but unless you're an extreme hummingbird aficionado, it's not a necessary addition to your library if you already have the Peterson or Photographic Guide.
Disclosure: The item reviewed here was a complementary review copy provided by the publisher. But the opinion expressed here is my own, it has not been influenced in any way.
Related Posts