Reviewed by Grant McCreary on December 20th, 2012.
I am not an artist. As a kid, I enjoyed drawing and coloring, but I never developed that skill. I never even thought about it further until I started birding. I saw all these wonderful illustrations of birds and wished that I could create something like that. At the very least, I wanted to accurately document birds that I saw and, more ambitiously, recreate experiences I had with them. But I had no idea how. I have no excuse anymore with the publication of The Laws Guide to Drawing Birds
.
Ok, perhaps you think that you don't want to draw birds. Or, more likely, that you can't draw them. I was right there with you. But I challenge you to read the first two pages of this book and still feel the same way afterward. Laws makes some great points as to why you should draw birds, even if just for yourself. It forces you to really study birds and look at them critically. The obvious benefit of this is that you will learn birds better. But it will also help you to remember details and experiences. And, although it sounds a bit clichéd it could still be true, Laws argues that "drawing birds opens you to the beauty of the world".
Befitting of the subject matter, this guide is intensely visual. On most pages, there are more pencil strokes than letters. The author not only tells you what to do, but more importantly demonstrates how to do it. Sometimes this takes the form of incremental drawings, such as the two-page spread that shows how to draw wings step by step. Other illustrations are more finished, with annotations pointing out some feature or trick (very much like many field guides). The many illustrations, combined with a great layout and overall design, make this book not only instructional, but also pleasing to simply flip through and admire.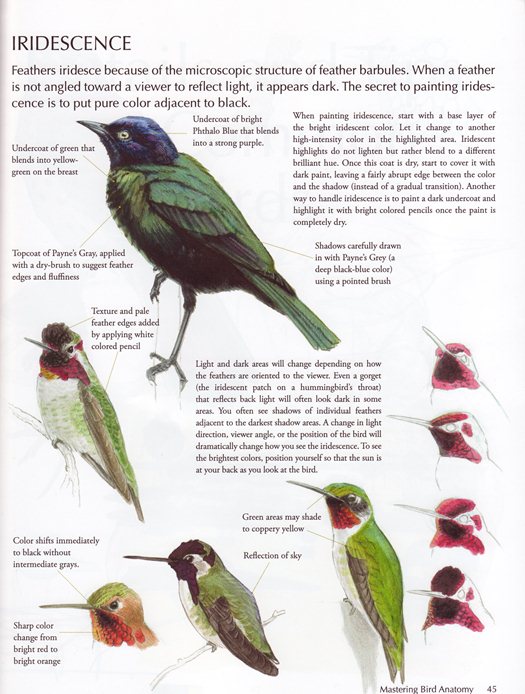 But, once you open this book, it's hard not to get intimidated. The Laws Guide to Drawing Birds is incredibly detailed. But it gets more comforting when you realize that the author is giving you just about everything you need to know in order to draw birds. Laws gives tips on drawing all kinds of feathers, from head to tail, and birds in all positions. There are special instructions for certain kinds of birds, such as raptors, ducks, and hummingbirds. He even gives suggestions on choosing media like colored pencil and watercolor, along with techniques of how to use them.
One of the things that surprised me the most about The Laws Guide is that, as a birder, you can learn much more than how to draw birds. The writer/artist notes and illustrates things that most people have probably never noticed, like the pattern of white spots on the rear of Carolina and Bewick's Wrens when their rump feathers are elevated. Laws also gives some lessons in bird anatomy, for "to convincingly draw birds, you must understand what lies beneath the surface". This includes some things, such as facial feather groups, that are covered in field guides and other resources. But it also gives many fascinating insights that I'd never noticed before, such as that a bird's beak doesn't hinge at the gape, but rather much further back in the skull. And there's a wonderful sequence that illustrates how a wing opens, something that I had always wondered about and have seen covered in only one other source (Kaufman Field Guide to Advanced Birding).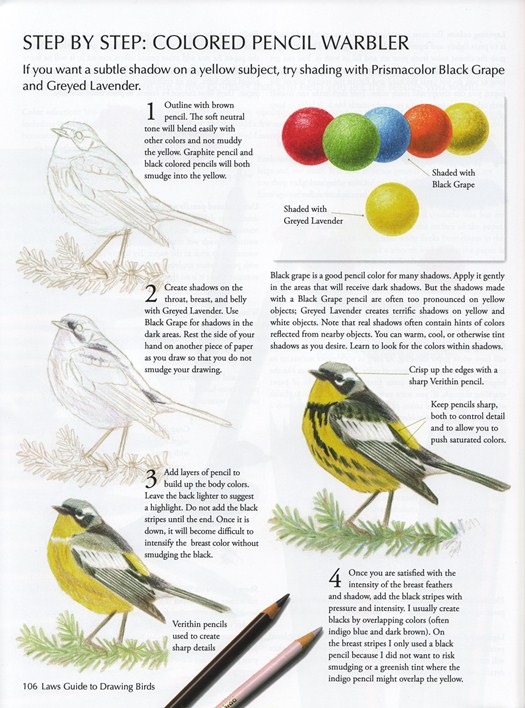 Recommendation
If you've ever even remotely considered drawing birds, you will find The Laws Guide to Drawing Birds
eye-opening, and then essential. If you are already an experienced artist, this guide is so "detailed and thorough" that it would be helpful to you as well, as David Allen Sibley writes in the forward here. Even if you never plan to take up pen or brush, there are still important lessons that you can learn. Altogether then, I'd recommend it to anyone interested in birds (excepting Mr. Sibley – I think he's ok!).
Here are some more sample pages
Disclosure: The item reviewed here was a complementary review copy provided by the publisher. But the opinion expressed here is my own, it has not been influenced in any way.
Related Posts