Reviewed by Grant McCreary on October 12th, 2016.
Bird art comes in many varieties: photography, painting, field guide illustration, sculpture. Even among just the single category of paintings, you have everything from uber-realistic to highly stylized. But I think it's safe to say that you've never seen anything like Prolonging Revenge Through Reincarnation: The Paintings of The Mincing Mockingbird Volume III.
At first, this book seems no different than other bird art books – it's fairly large and filled with striking, beautiful paintings of birds. But after looking through it for a bit, you begin to notice that these are unlike bird paintings you've seen in other books. There's no natural environment – they're all set against a plain background of a solid color. They aren't depicted as in a field guide, either – here, the birds are often shown from interesting angles, such as looking dead-on at the viewer, with only a portion of the subject visible. Many are quite small in the overall image. The best way to describe them is as portraits. And, just as in a good human portrait, they are expressive, dripping with attitude, and full of life.
And then you read the titles. Most have absolutely nothing to do with the portrait, at least as far as I can discern, and are, shall we say, odd. Often funny (In My Heart I Knew My Ability To Predict Minor Automobile Accidents Was Not Enough To Secure Membership In The Justice League Of America, But I Couldn't Have Lived With Myself If I Didn't Try), sometimes a little disturbing (I Will Not Admit That The Disturbingly Protracted Inter-Digestive Squirming Of Worms is Erotic, But You Won't Catch Me Denying It), the titles are amusingly different. Others, though, are pretty much spot on, even a bit poetic, such as The Dreadfully Delightful Existence Of Semi-Spectral Things, featuring a pair of Barn Owls.
In my review of the artist's previous book, Guide to Troubled Birds, I disclaimed that it wasn't for everyone, as you have to have a slightly twisted sense of humor to appreciate it. That is less the case here, however, as the focus is different. There, it was on the short stories. Here, it is on the art. The titles are a nice bonus if you find them humorous – you'll get lots of good chuckles out of them. But they're also easily ignored if you find they're not to your taste.
The subjects are mostly finches or other small passerines, though you do find a couple seabirds, shorebirds, and others. Unfortunately, though, the birds are not identified anywhere. I realize that may be an intentional decision by the artist, but as a birder I like to know what things are!
Even though this is a self-published book, the quality is amazing. The binding, cloth cover, and paper are all top notch, and the art is reproduced flawlessly.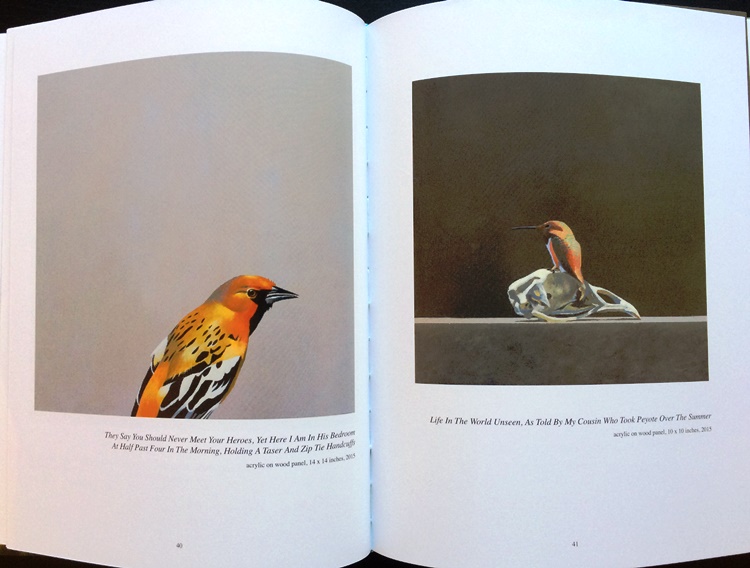 Recommendation
Prolonging Revenge Through Reincarnation: The Paintings of The Mincing Mockingbird Volume III is unique (excepting, I suppose, Volumes 1 and 2!). Adrian's portraits convey an expressiveness and vitality that I haven't seen anywhere else. And the titles are great fun. Overall, this book earns a place on the shelf of any bird art aficionado.
Disclosure: The item reviewed here was a complementary review copy provided by the author. But the opinion expressed here is my own, it has not been influenced in any way.
Related Posts