Reviewed by Grant McCreary on May 23rd, 2016.
It all started with a desire "to understand more of how baby birds are put together, how they grow and develop." For Julie Zickefoose, if she wants to understand something, she draws it. And so she did, starting with baby bluebirds from a nest box in her yard. That was in 2002, and was the start of a project that would span over a decade and 17 species, culminating in Baby Birds: An Artist Looks into the Nest.
Baby birds? I know what you serious birder-types are thinking (because I would too): is this some sort of cutesy picture book? Well, yes and no. It is filled with paintings of baby birds, which are cute (at least when they get their feathers, prior to that they are an ungainly "bag of guts", as the author puts it). But to dismiss this as "just" a coffee-table art book would be a huge mistake.
Not that it doesn't work as a coffee-table book – it's filled with Zickefoose's gorgeous watercolors all packaged in a large, exquisitely designed book. The author's goal was to paint a nestling of each species on each day of its life from the first until it was no longer safe to do so as further handling would cause premature fledging. Virtually every page of the book has one or more painting, accompanied by the artist's handwritten notes. Most are of pre-feathered nestlings that are interesting and well-executed, but the subjects are – speaking honestly – not attractive. But once the feathers break out of their sheaths they become some of the most adorable things on the planet.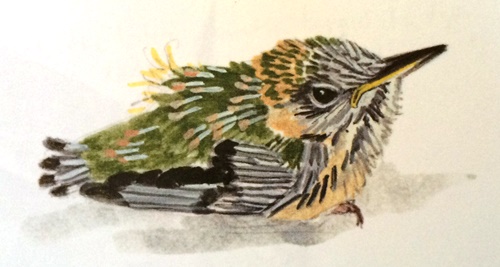 The original paintings – most done from life with a few, when circumstances demanded, executed from photos – were done life-sized. I'm not sure if they were reproduced at the same scale for this book, but many are accordingly tiny, getting progressively larger to match the subject's growth. But at least once in every account you'll turn the page to be wowed by a large, full-page painting of an adult on the nest or feeding a fledgling, or of one of the subjects as an adult. These are all amazing, worthy of being framed and hung on a wall.
Each chick's transformation from naked, blobby mass to bird is mind-boggling. It can be difficult to wrap your mind around the change as the chapter progresses. Thankfully, each chapter begins with an at-least-two-page spread of all the paintings together in sequence. Four of these include a fold-out page! Even so, the scale had to be reduced to fit them all, so it can be hard to see detail. But these panels are great at depicting the sequence and rate of changes in the birds. It's one thing to read a statement such as this: "Being cavity nesters, eastern bluebirds have the luxury of developing at a more leisurely pace in the safe, warm confines of a woodpecker hole or nest box." But with even a cursory look at the beginning-of-chapter spread the truth of it is obvious.
As amazing as the art is, the writing in Baby Birds is even better. The works of certain artists resonates with some people. It may be a musician or composer, painter or photographer. You may not even be able to describe why it does so, but the work engenders inspiration, awe, perhaps even envy of the artist's ability. But, more than anything, it gives you joy. For me, there are a select few writers who fall into this category. Julie Zickefoose is one of them.
In this book she has created something that is so much more than a journal of the growth of baby birds. It is at turns informative and touching, inspiring and heartbreaking. The reader shares in the triumphs, losses, and most of all, wonder of raising infant birds. Zickefoose really gets to know these birds, both at the species level and as individuals, and is able to convey that intimacy almost poetically. We discover that:
"There is mindfulness in everything Carolina wrens do."
"Most people have no idea how close to the line birds live during nesting season, especially aerial insectivores like swallows."
Carolina Chickadees are the "sweetest smelling" nestlings – "like butterscotch, or brown sugar" – whereas the European Starling chick she painted emitted "a strong horsey odor"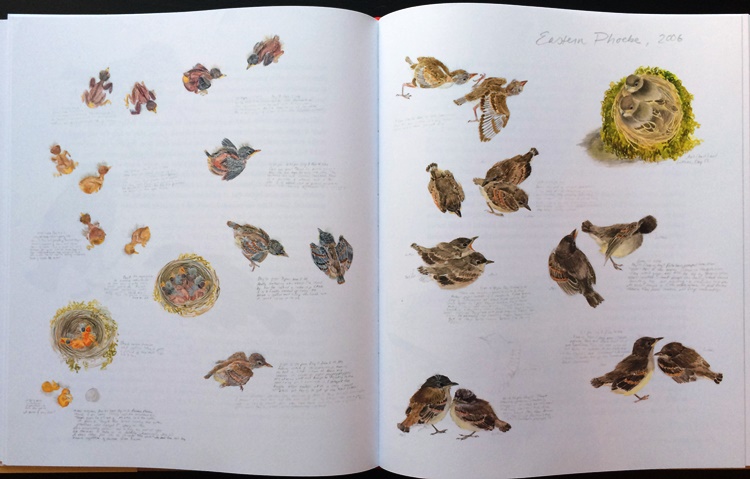 Through this connection that comes from close observation and an open, sharp mind, the author is able to gain insight into the development process that even ornithologists aren't privy to. "I've found over the years," Zickefoose writes, "that what I observe often differs substantially from published accounts." The reader will learn when a bluebird's tail starts to grow, the average day that Indigo Buntings fledge, and many other similar things. But more unexpected are other insights, such as:
It's possible that baby Ruby-throated Hummingbirds visually mimic a toxic caterpillar. That's really cool! I also learned that there's a widely distributed caterpillar in the eastern United States that's dangerous to people: "The luxuriant setae – detachable hairs – of the flannel moth caterpillar are so toxic that just brushing against them can create an excruciating rash on exposed skin." (A larger Amazonian species is said to have killed people!)
Have you ever noticed how cardinals are one of the last birds at feeders as light fades? Their crepuscular habits are supported by large eyes, but you'd never know that by looking at adults, as their eyes are largely covered by feathers. On nestlings, however, this feature is immediately obvious.
But the best thing about reading Baby Birds is not what you learn, but how it's presented. "There is wonder in all birds, but in hummingbirds there is magic." I would extend Zickefoose's sentiments about the Trochilidae to include her writing. It is relaxed, casual – but please don't mistake that for unauthoritative, she knows of which she writes. But more than anything, her wonder, enthusiasm, and concern for her subjects is transparent…and contagious.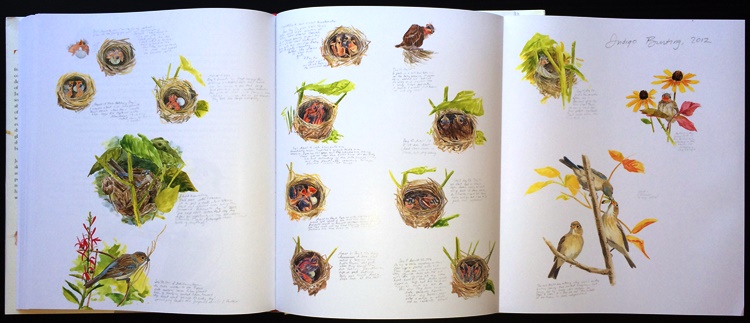 All of these qualities culminate in the book's final – and best – chapter on Yellow-billed Cuckoos. It has it all: gorgeous paintings, including a stunning, full-page image of an adult performing a threat display on its nest and a not-yet-fully-feathered-out nestling doing the same thing (although much more adorable than threatening!); personal anecdotes and observations; and fascinating insights into cuckoo breeding biology. In the case of one observed nest, the time span from the start of nest building until all chicks fledged was only 19 days! That's how long Chimney Swifts spend just incubating. And then there's the rare cases of brood parasitism. By the end of the chapter, you can't help but agreeing with the author that these birds are probably "the most interesting birds in North America."
No book is perfect, and that includes Baby Birds. It has its share of faults…well, some of the handwritten notes can be difficult to read. And the dust jacket on my copy has a tendency to slide upward while reading. That is ever the slightest bit annoying.
Recommendation
Julie Zickefoose claims that "the transformation of a nestling each twenty-four hours is still the most astonishing yet underappreciated phenomenon I know of." After reading Baby Birds: An Artist Looks into the Nest, you will find it just as astonishing while gaining considerable understanding and appreciation of it. It is a pleasure to observe this process through the art and words of this book.
Disclosure: The item reviewed here was a complementary review copy provided by the publisher. But the opinion expressed here is my own, it has not been influenced in any way.
Related Posts