Reviewed by Grant McCreary on November 9th, 2012.
When I became a birder I immediately started reading all the bird books I could find. But I was shocked by how many different kinds there were; I had no idea! I found lots on identification, of course, but also birds in art, where to watch, natural history, attracting birds to your yard, birds in sports, well…maybe not that last one. Birders starting out today, however, have a simpler option. They can get an introduction to nearly all things bird-related in just a single book: National Geographic Bird-watcher's Bible: A Complete Treasury
.
This Bird-watcher's Bible covers many different subjects within these seven chapters:
The Anatomy of a Bird
Birds Through the Ages
The Life of a Bird
Science Discovers the Bird
To Be a Birder
Flight and Migration
Bringing the Birds Back Home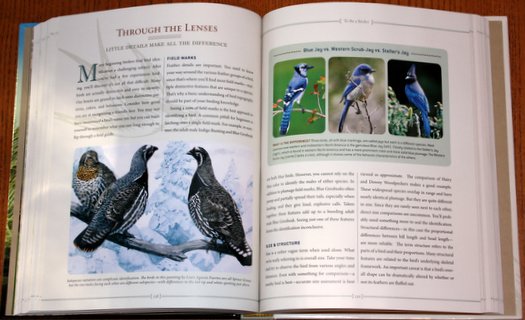 The topics covered are many and varied. For instance, the chapter on science covers birds' evolutionary history, the impact of birds on science (Darwin, Wallace, etc), bird art (from Catesby to Peterson), amateur naturalists, and current topics of research. Whew. Adding to that are a ton of sidebars, almost one per page, featuring such things as random bird trivia, origins of bird names, top lists, and quotes (my favorite: "You must have the bird in your heart before you can find it in the bush." – John Burroughs, Sharp Eyes, 1879).
While the breadth of topics covered is staggering, the depth of each is not. But that befits the book's purpose as an introductory text for newer birders. It also makes it easier to simply flip through the book and find something that interests you. This book is designed to be perused, not read cover-to-cover. It is definitely a success in that regard; I've greatly enjoyed reading sections here and there, especially some sidebars. There are some really interesting tidbits here, such as the fact that Fieldfares (a Eurasian thrush) attempt to drive off predators by communally dive-bombing them. They "take to the air and, one at a time, screech, dive down, and defecate on the interloper". Note to self: do not disturb Fieldfares.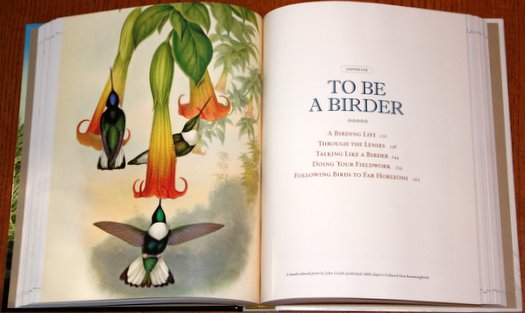 While one may take issue with the selection of some topics included here, wondering why some were included or thinking others more worthy, such criticism is unavoidable in a book such as this. While I've got a few of my own, for the most part I think the editor and various writers did a good job in selecting what to include. But it is nowhere near complete, so I have to take a little exception to this book's title and subtitle. To me, a "bible" (in the lower case, non-religious-tome sense) implies that it is authoritative and comprehensive – the first thing you'd turn to when you have a question. That does not describe this book. (Although, to be fair, I don't know how any single book could ever be that for all birdwatchers.) Its label as a "treasury" is much more apt.
As expected of a book from National Geographic, the illustrations are a highlight of Bird-watcher's Bible. Nearly every page is adorned with a photograph, a painting from one of National Geographic's guides, or other artwork. The latter includes many full-page reproductions of bird art. Many Audubon prints are included, of course, along with lesser-known, but no less impressive, works. This is a very attractive book, which makes it all the more pleasurable to pore over.
Recommendation
National Geographic Bird-watcher's Bible: A Complete Treasury
is an appealing, enjoyable introduction to the world of birds and how we relate to them. Newer birdwatchers, or even those just somewhat interested in birds, should really enjoy it.
Disclosure: The item reviewed here was a complementary review copy provided by the publisher. But the opinion expressed here is my own, it has not been influenced in any way.
Related Posts