Reviewed by Wieteke Holthuijzen on December 30th, 2017.
Laysan Albatross, known as mōlī in Hawaiian, are spectacular birds of the sea, nearly mythical in terms of their nomadic and mysterious lives in the open ocean and their intricate courtship dances on land. Although albatross are often metaphorically connoted with burdens of the heart and mind, a new book written and illustrated by Hawai'i artist Caren Loebel-Fried changes the perspective on albatross and invites the reader into the fascinating world of these seafaring birds. Although written for younger schoolchildren (grades 1-3), A Perfect Day for an Albatross is a unique, engaging, gorgeous, and informative book that readers and audiences of all ages will enjoy and cherish.
The book opens with Mālie, a Laysan Albatross nesting on Midway Atoll. Although most associate this set of remote islands with the Battle of Midway, the reader steps into a different world, one filled with thousands upon thousands of seabirds. Mālie, surrounding by more than a million fellow breeding albatross, carefully tends to her single egg in a busy and bustling seabird colony. She, too, hatched on this isolated atoll, then spent many years at sea, learning how to forage and soar throughout the North Pacific before returning "home" again to contribute to the next generation of albatross. Complimented by vibrant, full-color block prints, Caren Loebel-Fried does more than tell a story of an albatross. By integrating basic aspects of albatross life history and biology, Caren places the reader alongside these seabirds and gives us an opportunity to learn from and participate in their day-to-day lives. For example, when Mālie returns to Midway Atoll and meets her future mate, Kumukahi, each part of their elaborate courtship dance is illustrated in detail step by step. Add in your own "sky moos," "bill claps," and "honks" and you will be dancing along with the albatross yourself!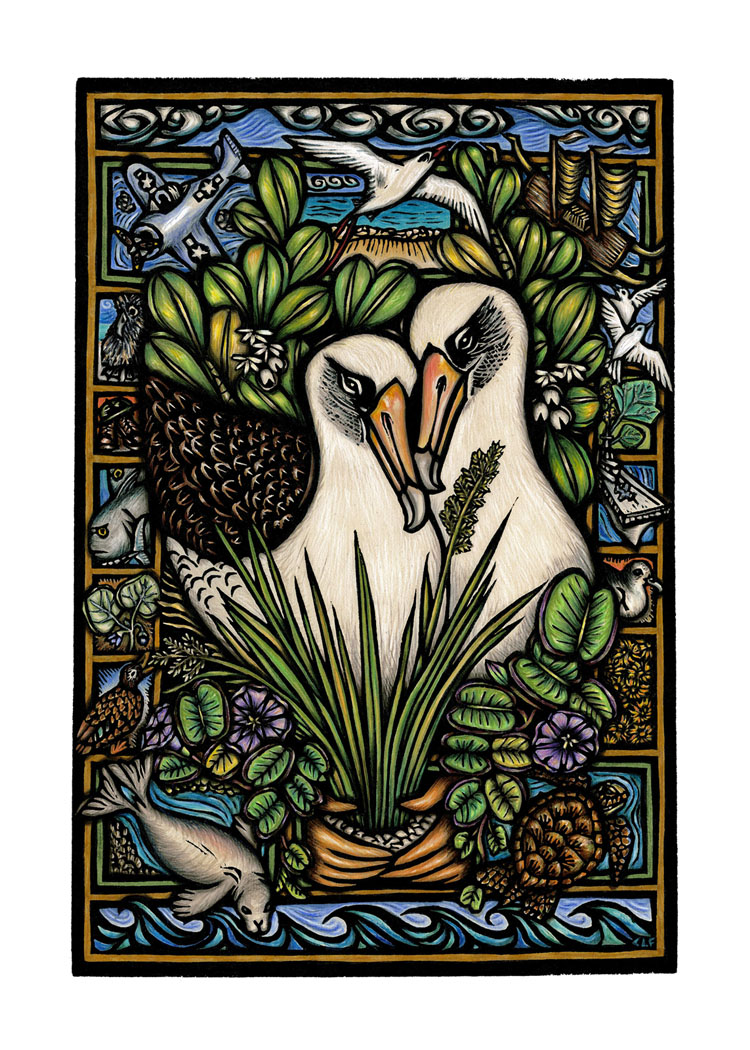 Mālie's day is full of commotion and interactions, from neighborly nesting albatross to blustery storms. Each page, each illustration is a journey in and of itself and captures the intense and dense life on Midway Atoll. As Mālie incubates her egg, she pulls in nesting material from a native plant species (bunchgrass – kāwelu); underground, a Bonin Petrel (a burrowing seabird) rests in its burrow. Coupled with the "Can you find me?" section in the back of the book, young readers can revisit this book time and time again, finding and learning something new on every page. Perhaps one of the most beautiful parts of the book occurs when Mālie is given a break from her incubating duties (by her partner, Kumukahi), so she departs to the wide-open sea for a well-deserved stretch and much-needed meal. The reader flies along with Mālie over the open ocean; you can almost feel the sea when Mālie takes a bath and preens herself in the water, ridding herself of mites and dust. After a hearty meal at sea, Mālie departs into the night sky, into the air—returning to her natural element. As a closing, and such a perfect ending to the perfect day for an albatross, Mālie remarks, "I could fly forever, dreaming forever, over the endless beautiful sea."
A compelling story, rich artwork, and engaging content make for an incredible book—and Caren Loebel-Fried has certainly done so with A Perfect Day for an Albatross. For any child (and for the child in all of us), this book is a beautiful introduction to the wide and wild world of albatross, to the feelings, sounds, and sights of a bustling seabird colony. A common thread throughout the book is Caren Loebel-Fried's careful attention to detail—or more specifically, translating years of research and observation of these elusive seabirds into an engaging format that all can understand. Even seasoned seabird enthusiasts will find something new to learn in this book! As a bit of background, Caren Loebel-Fried spent five weeks on Midway Atoll counting and researching albatrosses; in addition to innumerable hours reviewing peer-reviewed literature and consulting with seabird biologists, Caren has taken considerable effort to ensure that her book is biologically accurate.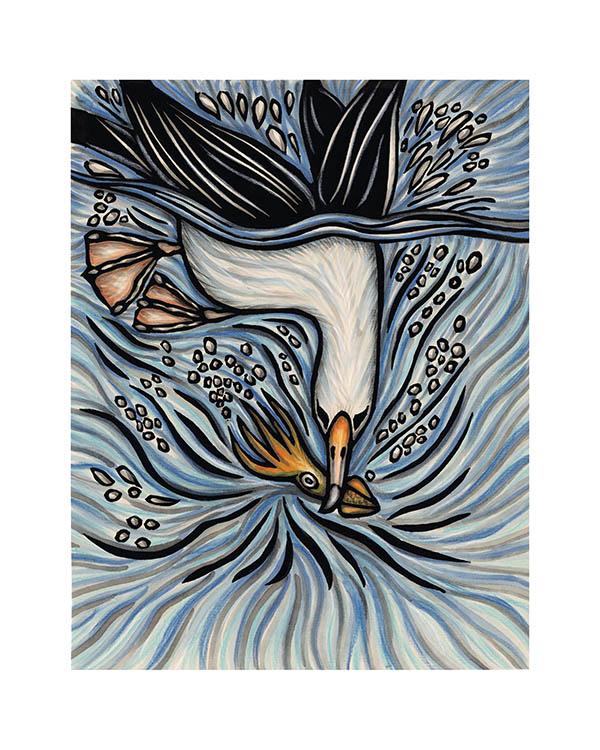 In addition to the story about Mālie's day, Caren Loebel-Fried also includes several valuable pages that provide more information about Laysan Albatross, Midway Atoll, seabird ecology, and tips on how readers can take steps to conserve and protect the oceans, coral reefs, and islands that are critical to the survival of albatross and millions of other marine species. As a special note to educators and teachers, A Perfect Day for an Albatross also comes with a (free!) comprehensive and impressive educational guide that covers a wide variety of topics, from albatross habitat to nesting behavior to plastic pollution in oceans. This book is published by Cornell lab Publishing Group, part of the prestigious Cornell Lab of Ornithology; be sure to check out the book's back matter, which includes a Bird QR link to watch live albatrosses on the Cornell Lab of Ornithology HD cam in Hawai'i.
Anyone who has had the great fortune to visit Midway Atoll will agree that Caren Loebel-Fried captures the "magic" of Midway in A Perfect Day for an Albatross. We may not necessarily all have the great fortune and luck to visit Midway, but Caren Loebel-Fried offers her readers the next best thing—to dance and soar with albatross from page to page in a stunning, inspirational, and educational book.
Wieteke Holthuijzen works as a Board Director with the Friends of Midway Atoll NWR. She has also worked on Midway Atoll as a volunteer with the Biology Program and more recently as the Refuge's Invasive Plant Control Specialist. Currently, she is collaborating with Island Conservation on implementing ecological monitoring in regards to the planned mouse eradication on Midway.