Reviewed by Grant McCreary on April 5th, 2009.
Falcon. For me, that word is associated with strong images and concepts. In my mind, I see a Peregrine in flight, motionless as if a photograph, with pointed wings slightly swept back. But then my mental image changes; the wings are pulled back and it is bulleting through the air, faster than any other creature on Earth, toward some unsuspecting prey. Speed, agility, grace, and a terrible beauty – falcon. It is no wonder that these raptors have long held our species in thrall.
Kate Davis is the founder of the Raptors of the Rockies rehabilitation and education center, and she shares her considerable knowledge of these birds through this book. Just about every aspect of a falcon's life is covered, from physiology to behavior to conservation.
If you didn't already know, this remarkably up-to-date text will make it abundantly clear how amazing these birds are. The hunting techniques are perhaps the most fascinating. As you may be aware, the Peregrine Falcon is the fastest animal on the planet, attaining speeds over 200 miles per hour during its stoops, or dives, on prey. The author explains the adaptations that allow such a feat, such as those that permit the bird to see and breathe during the dive. But other falcons use different methods, such as hovering (kestrels) and aerial pursuits.
The relationship between these birds of prey and man is also discussed in detail. This includes an introduction to historical and modern-day falconry, but is mostly focused on conservation. Most falcons have had a rough time recently. The ecological scourge that was the pesticide DDT almost wiped out the Peregrine Falcon from this continent during the 20th century. As a kid in the 1980's I was fascinated by Peregrines, and I think one of the reasons was that I thought I'd never get to see one. Thankfully, due to the extraordinary effort summarized in this book, I was wrong. The Peregrine is now one of the most famous conservation success stories.
The six falcons of North America – Gyrfalcon, Peregrine, Prairie, Aplomado, Merlin, and American Kestrel – also get their own species account, each of which includes: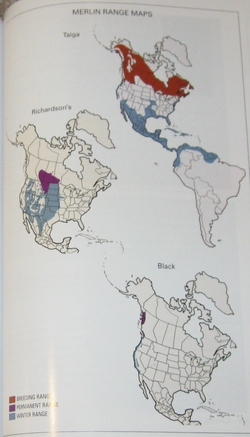 Photographs

– 6-12 for each species

Range map

Measurements

– length, wingspan, weight

Description

Range

Habitat

Behavior

Flight

Breeding

Vocalizations

Movement

Conservation

Subspecies in North America

Etymology

– the meaning behind their names, both common and scientific

Tidbit

– other interesting information
The accounts average about eight pages each, and as you can see, they are packed with information. There is some great stuff here. Just one example: Merlins have been known to emulate the undulating flight style of woodpeckers in order to get closer to prey.
The maps show the species' breeding, winter, and permanent ranges over the entire North American continent, including Central America and parts of South America where appropriate. The only exception is the Aplomado Falcon, which only shows the status in Texas, New Mexico, and the northern portion of Mexico. However, that map is extremely detailed, showing the range on a county basis. In a very nice touch, a separate map is given for each subspecies (except for the kestrel, for some reason).
Any photograph where its caption begins "Not Photoshopped!" has to be a good one. Indeed, the shot captioned as such – a Peregrine attacking a Brown Pelican – is an unbelievable image. But it is not the only amazing picture in this book. The many photographs here, the majority of which have been provided by Rob Palmer and Nick Dunlop, are fantastic. All the species are well represented, both perched and in-flight. The photos in the latter group are particularly impressive.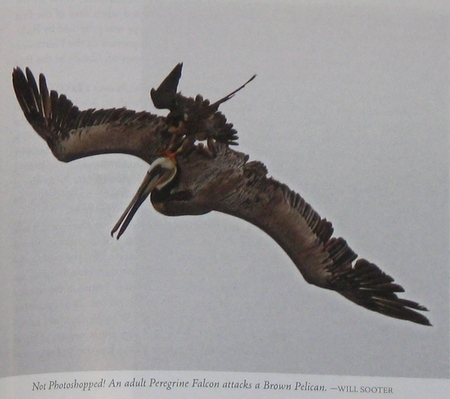 Additionally, the author has provided some excellent black-and-white illustrations and diagrams.
My only complaint with this book is its size. The trim size is just larger than the guides in the Princeton photographic series. While this is ideal for a specialty identification guide, that is not the purpose of this book. You would not need to carry this into the field, or even leave in the car for reference. Thus, I would prefer it to have been larger, to better showcase the spectacular photographs. They look great as they are, but they deserve more.
Recommendation
The photography alone is reason enough to get this book. It perfectly captures the mystique and appeal of falcons. The text is quite good as well, providing an authoritative yet comprehendible account. This book should satisfy anyone interested in these birds.
Disclosure: The item reviewed here was a complementary review copy provided by the publisher. But the opinion expressed here is my own, it has not been influenced in any way.
Related Posts