Reviewed by Grant McCreary on February 15th, 2017.
There's a crowded market for owl books, and with more and more published every year it's hard to find something new and different. And yet Paul Bannick seems to have a talent for doing just that. His first book, The Owl and the Woodpecker, looked at owls' role as indicator species and their ecological association with woodpeckers. It was surprisingly, fantastically different. Bannick's follow-up looks exclusively at owls, but Owl: A Year in the Lives of North American Owls still manages to find its own niche.
Owl provides an overview of the owl's year, concentrating on four particular areas: courtship and nest selection, life in the nest, gaining independence, and surviving the winter. Each of the four chapters follows the pattern of exploring the topic as it applies to North American owls in general, and then focusing on specific species. Bannick has chosen Northern Pygmy-Owl, Great Gray Owl, Burrowing Owl, and Snowy Owl for his exemplars, as "These four species exhibit the majority of behaviors at each phase of an owl's life, inhabit most of the owls' geographic range, and represent much of the variation in owl size and color." Although these four dominate, rest assured that the book does include some photos and notes on the other 15 North American owls.
The first thing that sets this book apart is its restriction to observable owl behavior in telling the story of North American owls. Bannick doesn't delve deeply into their biology or tackle taxonomy. He shows us, in both words and photos, how these owls live. And, as a photographer, he's the perfect person to do so. Bannick knows these owls well. He has to – the only way someone could get photographs this good is to spend a lot of time closely observing these birds. As he reflects, "Wildlife photography has taught me to slow down and pay greater attention – to learn about each plant and animal I encounter and what each needs to survive."
It should therefore be no surprise that the narrative is peppered with personal anecdotes. These serve dual purposes of illustrating typical owl behavior while making an already exciting subject all the more fun to read. One of my favorites is a female Great Gray diving off her nest to chase off a Black Bear, who was squealing "like one might hear from a scared pig" as the owl struck it again and again. I wish I could've seen that! The author doesn't rely on stories alone, though, there are plenty of interesting facts as well. Just one example:
Only six of the roughly two hundred species of owls in the world never use trees for nesting, and three of them – Burrowing Owls, Short-eared Owls, and Snowy Owls – can be found in North America. These owls make use of earth tunnels or the ground surface itself for nesting.
The other thing setting apart Owl from all the other owl books I've seen is its photographs. Each chapter is liberally illustrated with photos depicting the behaviors and actions being discussed: courtship, adults bringing food to nestlings, owlets leaving the nest. Then there are even more photos – 18-or-more pages of awesomeness following each chapter. Here are just a few that stood out:
The Burrowing Owl on page 95 is just begging for a funny caption and to be plastered all over social media
A Northern Pygmy Owl delivering a bat to its nest
A Great Gray Owl almost buried in snow after pouncing on prey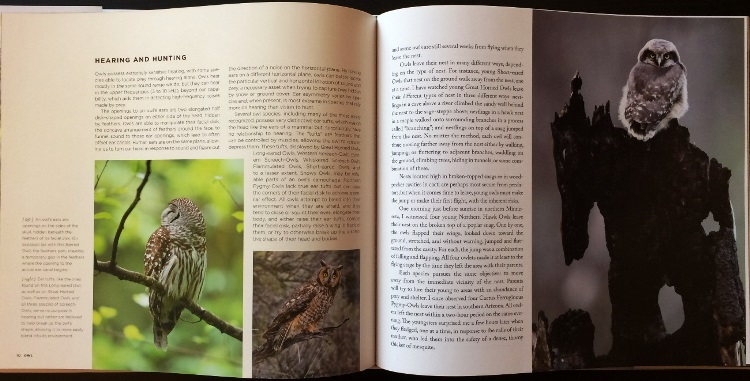 As if all that weren't enough, there are also six sidebars, covering such topics as prey, predators, and hearing and hunting. An additional eight habitat profiles describes, in one or two pages, various North American habitats and the owls that inhabit them. Finally, there is a five-page "Field Guide to North American Owl Species", which includes a single, small photo along with a synopsis of their description, similar species, interesting fact (did you know that the Whiskered Screech-owl is "the only small forest owl that seems to prefer natural cavities over those created by woodpeckers"?), North American distribution and habitat, and nesting. You can think of this more as an introduction to each species than a true field guide.
Recommendation
Owl: A Year in the Lives of North American Owls is an informative, intimate look at our owls. Paul Bannick has spent many an hour in the field with these birds, and that clearly comes through in both his pictures and his words. This is one of the best – and certainly the best-looking – of the many, many owl books.
Disclosure: The item reviewed here was a complementary review copy provided by the publisher. But the opinion expressed here is my own, it has not been influenced in any way.
Related Posts