Reviewed by Grant McCreary on November 22nd, 2012.
As a birder, it's hard not to have some favorite groups of birds. Warblers have always been a particular favorite of mine, and it's not hard to understand why. Raptors and hummingbirds are other groups popular with birders. But after a few days in Colorado one April a new, unlikely group joined the ranks of my favorite birds – grouse. To look at them in field guides, you may not understand why. They are plain, brown, chicken-like birds. Displaying males show some color and look a little bizarre, but still most of them don't look particularly special. But seeing them for yourself when they are performing on their leks…I'm not a skilled enough writer to express how amazing that is. The closest thing I've seen to capturing this experience is Save the Last Dance: A Story of North American Grassland Grouse.
This large, coffee-table-format book covers the so-called North American grassland grouse: Greater Prairie-chicken (its two subspecies – Heath Hen and Attwater's Prairie-chicken – get their own chapters as well), Lesser Prairie-chicken, Greater and Gunnison Sage-grouse, and Sharp-tailed Grouse. What sets these birds apart is their breeding system in which males gather together at what are called leks, where they strut their stuff for the ladies. Each species has its own special "dance" that it performs, accompanied by all kinds of weird noises produced with the aide of inflatable air sacs.
That would be reason enough to call attention to these wonderful birds. But there is something else that they share, something not so fantastic. They are all faced with conservation issues, some severe. Like most grassland-dependent species, these grouse are facing extreme habitat loss and degradation. The first chapter of Save the Last Dance focuses on the Heath Hen, a population of Greater Prairie-chicken that lived in the Northeastern United States. But not anymore; they went extinct in 1932. The message is clear: this bird went extinct within the lifetime of some people still living today, and the same could happen to the other birds presented here.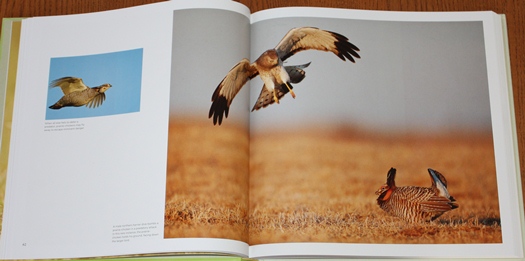 So how do we prevent that? Paothong hopes that this book will help. He is confident that people will want to protect grouse if only they get to know them. He hopes to achieve this introduction by means of photographs. Amazing, amazing photographs. I challenge anyone to open this book and not feel compelled to turn every single page. Even grouse aficionados would admit that page after page of grouse pictures could get tiring at some point. But not so here! Each of these images is striking, making you want to see what comes next. Just check out the above shot of a male Northern Harrier diving on a Greater Prairie-chicken, which stands its ground. (And for more samples, see my initial review of Save the Last Dance.)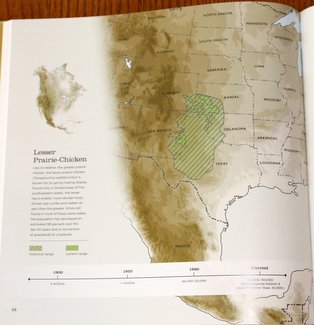 But there is more here than just Paothong's superb photos. Joel Vance contributes a textual account for each of these birds, allowing us to get to know them even better. The usual natural history information – food, nesting, mating displays, etc – are included, but I was pleased to find that these accounts are relatively lively and engaging, not a boring list of facts. There are even a few great stories, such as that of the relatively recent "discovery" of the Gunnison Sage-grouse. But, as with the rest of the book, the emphasis is on conservation. Vance relates the historic and current threats, and what measures are being taken to keep each of these grouse from performing that "last dance".
Full-page range maps that begin each account are a welcome inclusion. They are very nicely done, showing both the current and historic range of the grouse. And if that weren't sobering enough, there's also a timeline showing the total population estimates from the beginning of the twentieth century to the present.
Although close, Save the Last Dance isn't perfect. The text can be a bit confusing at times, especially regarding the taxonomic status of the Heath Hen (at places it seems to imply, at least to me, that it was a full species, instead of a subspecies of Greater Prairie-chicken). And the placement of the Lesser Prairie-chicken account between those of the Greater and Attwater's is confusing. But these are very minor issues.
Recommendation
I don't want this book to be a record of extinct species.
– Noppadol Paothong (interview)
Save the Last Dance: A Story of North American Grassland Grouse is one of the best popular treatments of a group of birds that I've seen. Judged strictly on its own merit, it's a frontrunner for best bird book of the year. But when you add in its potential for impacting the conservation of these endangered birds, it becomes – and I don't say this lightly – a must-buy for anyone who cares in the least for these birds. And if you know anyone who doesn't (yet) care for these birds, this would be a great gift.
If you need any more incentive to buy this book, if you order directly from the author, a portion of the price will be donated to a grouse conservation organization of your choice.