Reviewed by Frank Lambert on December 7th, 2014.
In 2010, I reviewed the first edition of this essential field guide. The first edition proved to be so popular that the authors have seen fit to publish this fully revised edition – another very welcome addition to the field guides to birds of this very rich region. As the authors note, Colombia recently became the first country to reach a staggering country list of 1,900 species – about 20% of the world's birds – and recognition of this as well as an excellent birding infrastructure has led to a noticeable increase to the number of birders visiting this wonderful country.
Whilst still very compact compared to most field guides to Neotropical birds, this edition contains 360 plates compared to 225 in the first edition. This is because not only has the text been improved and lengthened slightly where necessary, but additional plates of birds in flight and new species accounts for recently recorded or split species have been incorporated. Not only have 1300 species been re-illustrated but the quality of reproduction of the plates has also been significantly improved in this second edition. Other improvements include a very useful fold-out topographical map of Colombia on the inside cover that shows the location of all of the ProAves reserves, and a short section on Top Areas for Birding in Colombia. One improvement that I particularly liked was the new maps, many of which have been significantly refined, and all of which now indicate which subspecies occur where – something that will undoubtedly prove to be very useful in this age of rapidly changing taxonomy. The majority of species accounts now also contain a short description of voice, something that is often important in the field when dealing with look-alike species.
Although slightly larger than the first edition, this field guide miraculously fits into a large coat pocket, or easily into any bag, and it will be an invaluable companion on any birding trip to Colombia. Once again, the authors, as well as ProAves, have produced an outstanding piece of work, and all profits from its sale will go towards conservation of the many threatened birds illustrated in the book. If you are a birder visiting Colombia you have to take Field Guide to the Birds of Colombia, Second Edition
!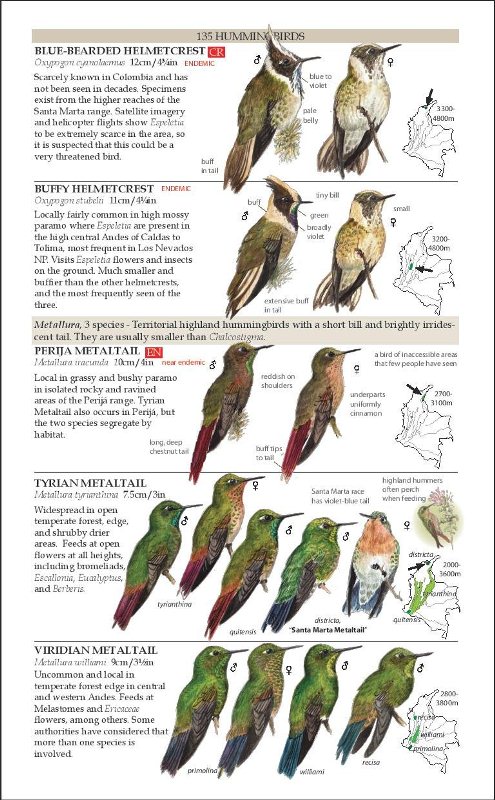 Buy from NHBS
(based in the U.K.)
Related Posts