Reviewed by Grant McCreary on August 18th, 2008.
The travelogue/listing subgenus of birding books is an interesting one. Unlike bird-finding guides or detailed trip reports, they hold little practical utility for birders. And although some are quite entertaining, I think their real appeal is vicarious birding. I am fairly certain I will never attempt a continent-wide big year, but I got to experience one in The Big Year
. I know for a fact that I will never see over 80% of the world's approximately 10,000 species of birds, but Phoebe Snetsinger did. What better person through which to bird vicariously?
Snetsinger's story is an amazing one. She was a relatively late convert to birding at age 34, but she completely threw herself into her new hobby. She started traveling further and further afield, taking several major trips each year. But just as she was hitting her stride she got knocked back – cancer. Her doctor gave her a year to live, and even less time before the symptoms and complications would start affecting her day-to-day life. She had a long-awaited trip to Alaska planned for later that year. The timing was such that, with luck, she would be able to finish it before she started to feel ill. So she went. After all, birding was about the only thing that could take her mind off the situation. She felt fine at the end of the trip. And she kept on feeling fine well past the doctor's deadline. So she kept going about her birding business, as if it could hold her disease at bay. At the time of her death, 18 years and several relapses later, she had seen more species of birds than anyone else had, ever.
The bulk of this book details her trips and the birds encountered thereon. There were too many trips, and especially birds, for a detailed reporting, so we are presented the highlights. This creates a paradox of both too much, and too little, information. The trips and the birds, as exciting as they are, all run together after a while. On the other hand, if you have a particular interest in certain places or species, you may not get enough to satisfy you. Some trips are covered in just a few sentences.
Snetsinger also discusses other topics such as taxonomy, her family, and adversities. The latter includes her cancer, of course, but also harrowing experiences on trips, such as a shipwreck and a brutal assault. It is not at all an exaggeration to say that it is amazing she survived some of her trips. These interludes provide a nice break from all of the intensive birding.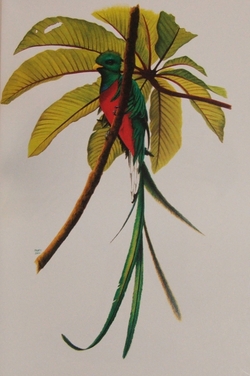 The narrative concludes with an epilogue written by Snetsinger's son, which describes her last trip to Madagascar, and the circumstances of her death there (amazingly, not from cancer!). It is a fitting and touching eulogy.
This memoir was well written and engaging. It's surprising how many birders are also very capable writers (or maybe vice versa?), and Snetsinger makes this transition well. That is very important in this case, as her story would have been diminished if recounted by someone else.
Many great illustrations by H. Douglas Pratt adorn the book. These are portraits of some significant birds mentioned in the text, such as favorite and milestone species. There are 16 color paintings bundled together in the middle, and many black-and-white drawings scattered throughout. The radiant Blackburnian Warbler cover painting is also Pratt's (Snetsinger credits a Blackburnian as sparking her interest in birds, which is completely understandable!). These illustrations allow the reader to better understand some of the birds in this tale, and are very welcomed. There are also a few black-and-white photographs of Phoebe and her family and friends.
Recommendation
Snetsinger's story, her accomplishments and adversities overcome, is tremendous. Additionally, we could all learn much from her attitude and approach to birding. Thus, I would recommend this, especially to those who like travelogues and listing-oriented books. However, I must note that even those who enjoy such books may still find it monotonous at times.
You can buy this book from the ABA through Buteo Books.