Reviewed by Grant McCreary on August 15th, 2014.
You're walking along a path in your local patch. A rustling in a tree behind you spins you on your heels. A black-and-white face stares at you from above. Oh, just a chickadee, you think as you turn around and continue, never knowing how close you came to a world of hurt. It may have looked cute, but you don't know what maliciousness is lurking inside that small bundle of feathers. For that, you need the Guide to Troubled Birds
.
In case the title didn't give it away, this isn't a serious book. Guide to Troubled Birds is a humorous exploration of what birds might say to us or each other. If they could talk, of course. And if they were, well, troubled. Actually, demented might be a better word for some of these birds!
Among the 24 short stories here is an owl's response to someone painting its portrait, a parrot giving its honest assessment of its owner, and a chicken giving an ultimatum to a farmer after discovering what happens to the eggs. These selections are short, a page at the longest, and most are quite funny. They're like an avian Jack Handy, but tend a little more toward sick humor. If the thought of a duck offing someone for eating foie gras or a bird expressing explicitly-worded contempt before being hit by a car sounds offensive, this book isn't for you.
Accompanying the stories are some painted, close-up portraits of birds. They are very impressive and in any other context would be very attractive. But here, with captions like "It's all fun until someone gets eviscerated" and "I'd sell you to Satan for one corn chip", the birds definitely take on a creepy, even sinister, quality. Let's see if I can show you what I mean. Below is a Blue Jay from the book's back cover.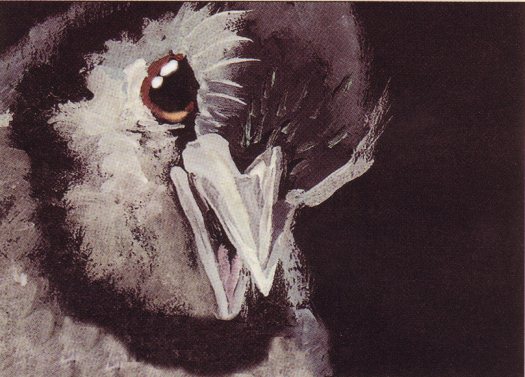 First off, I really like the style of the paintings; I think they look great. But how would you describe the bird itself? Inquisitive, perhaps? Forgive the anthropomorphism (although this book is nothing if not that), but to me the jay looks like it is smiling. But does your opinion change if I tell you the caption says "Your eyes look tasty"? All of a sudden, the perceived gleefulness takes on a whole different feeling. And yet, I can't help but chuckle.
Recommendation
Guide to Troubled Birds
isn't for everyone, but if you have the right kind of sense of humor, it's very funny. And it's undeniably clever and visually interesting. Who knows, it may even save your life one day from some troubled bird out there. Not even The Sibley Guide can do that.
Buy from NHBS
(based in the U.K.)
Disclosure: The item reviewed here was a complementary review copy provided by the publisher. But the opinion expressed here is my own, it has not been influenced in any way.
Related Posts