Reviewed by Grant McCreary on January 27th, 2013.
I bought Letters From Eden
a while ago. I don't remember how long, but it was after I became familiar with Julie Zickefoose's writing and art from her blog and Bird Watcher's Digest. I've been planning on reading it ever since, but somehow never got around to it. But with Zickefoose giving a presentation at a recent Georgia Ornithological Society meeting, I figured it was a good time to finally give it a read. And I'm glad that I did.
Letters From Eden is made up of 31 essays dealing with birds and other wildlife around her home. But Zickefoose's home is unlike most of ours; it's 80 acres of Appalachian foothills in southeast Ohio. It is most certainly "in the woods", as the book's subtitle suggests. And even though she writes about "ordinary" subjects – such as swallows, wrens, box turtles, and simply taking walks in the woods – these essays are anything but ordinary. I've mentioned before that I love the author's writing; it really draws you in and is just such a pleasure to read. And I found that to be the case here as well.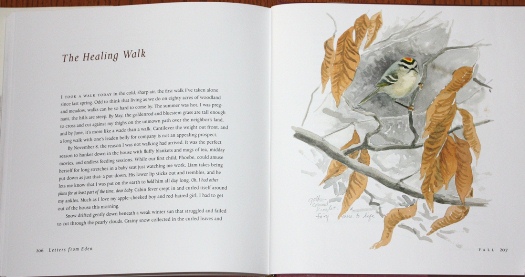 Accompanying the essays are the author's own sketches and paintings, and they are just as charming as the writing. The only negative I can say about them is that some lack captions. Birders will certainly recognize an unlabeled Great Horned Owl or Dark-eyed Junco, and non-birders may even be able to figure them out from the context of the associated essay. But still, there should be captions for all.
Reading Letters From Eden as soon as I did after its follow-up book, The Bluebird Effect, comparisons are inevitable. They both follow the same format and deal with many of the same things. In an interview, Zickefoose mentioned that she set out to top Letters with her second book. She most certainly accomplished that; in fact, I think The Bluebird Effect is better in most every way: it's longer, has more artwork, and is more engaging. It's not fair to this book to say that it is the prototype of Bluebird, but I get the feeling that it paved the way, showed that this type of book could be successful. And for that I am most thankful.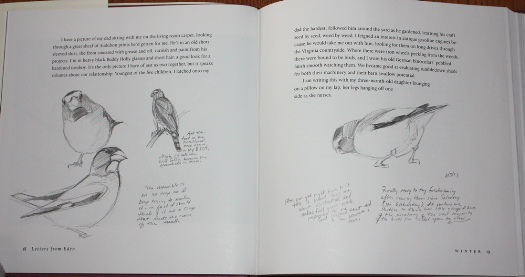 Recommendation
Letters From Eden: A Year at Home, in the Woods
is a wonderful collection of essays and art. If you have read and enjoyed The Bluebird Effect, then I would highly recommend this, its predecessor. But if not, then I'd suggest starting with Bluebird.