Reviewed by Grant McCreary on March 12th, 2017.
Imagine biking the United States coast-to-coast in spring. You could see and hear birds along the way that would otherwise be shielded by glass. By camping you could beat the sun up to experience the dawn chorus in just about every habitat this country has to offer. Doesn't that sound amazing? I would love to do something like that. But then I remember – I'm not a morning person. Oh, and I don't bike. It's obvious that such a trip is beyond my expertise and comfort level. But thankfully it was not beyond Donald Kroodsma, who undertook and chronicled just such a journey in Listening to a Continent Sing: Birdsong by Bicycle from the Atlantic to the Pacific
Kroodsma, along with his son, David, set out from Virginia in May with the goal of making it to the Pacific coast of Oregon two or three months later. They would peddle over four thousand miles through ten states. As you can imagine, they had their share of adventures and mishaps along the way – flat tires, injuries, dogs, malicious motorists. They met an interesting cross section of people and saw some great sights. Their father-son relationship was tested and, ultimately, strengthened. And there was also a self-discovery component for the author, as this trip gave him insight into what he really wanted to do. But, make no mistake, the focus was on birds and, specifically, their sounds.
Kroodsma has previously written several books on bird sounds. His first, The Singing Life of Birds, is a modern classic, and the follow-up Birdsong by the Seasons is great as well. Each of these is a virtual instruction manual on how to listen to birds. So it's no surprise that the author is able to identify most of the birds he hears along his trek. It is amazing, however, the insights he is able to gather through his careful, intentional listening. He's able to do this because of his approach:
I hear each bird not as a species to be identified and listed, which is a rather limited endgame, but as an individual with something to say, much as I listen to any human individual with something to say, not just someone to be identified. And when a bird sings or calls, it tells what is on its mind, which varies from moment to moment, so that every listen is new and different and interesting.
The song waking him in the pre-dawn darkness of his tent isn't just another robin. He gives it the same attention as a new, unfamiliar voice. He listens to make sure that, yes, this robin sings using the same pattern as the rest of his kind, or no, there is something abnormal about it. Repeatedly while on this journey, the author asks "What's on his mind?" of the birds he listens to. That would seem a rhetorical question, but I think he earnestly means it. In many cases he's able to formulate an informed theory in answer to that question. And when not, it only serves to underline how much we have yet to learn about the birds we see and hear every day.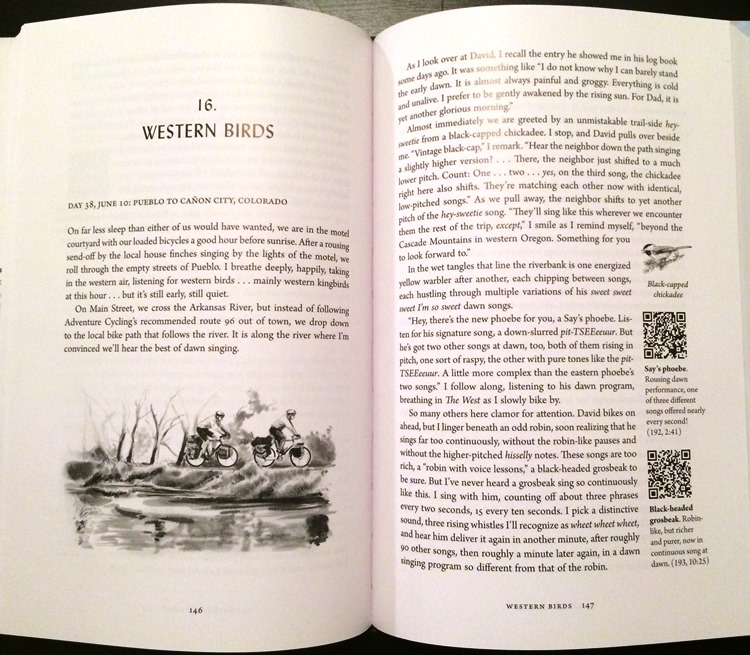 Readers can follow the Kroodsmas' journey not only on the printed page, but audibly as well. Kroodsma recorded many of the birds he encountered and has made those recordings available on a companion web site. Notes on the page indicate when a recording is available, and you can access it by scanning a QR code or by searching the site by species or track number. Being able to hear exactly what the author heard is invaluable to the experience. Even better, the website provides additional notes on each track detailing what, exactly, to listen for in the recording.
All of Kroodsma's books have included an audio component, and it's interesting to track the evolution of the presentation. His first books, The Singing Life of Birds and Birdsong by the Seasons, each included a CD with the sounds referenced in the book. His The Backyard Birdsong Guide: Eastern and Western audio field guides include a battery-powered playback mechanism built into the book itself. And now we have the sounds stored on a web server, accessible through a direct URL or via scannable code in the book. This latest arrangement has the advantages of being convenient for the reader and, I imagine, cheaper for the publisher. But I wonder about those that discover this book years from now: Will the site still be available for them to access?
The only bad thing I can say about this book is that I wish it included a map of the journey. As for the companion website, a "Next" link on each track's page would have been helpful so that you don't have to go back to the index if you're playing them in order while reading the book.
Recommendation
Listening to a Continent Sing: Birdsong by Bicycle from the Atlantic to the Pacific recounts an amazing cross-country bicycle trip spent listening to birds. This is a different kind of reading experience. Listening to the accompanying audio not only immerses you in the Kroodsmas' trip, it also forces you to slow down a bit and savor it. That's a good approach to listening to birds, as I'm sure the author would tell you, and it also works well for this book. So well, in fact, that this was my favorite book of 2016.
Disclosure: The item reviewed here was a complementary review copy provided by the publisher. But the opinion expressed here is my own, it has not been influenced in any way.
Related Posts