Reviewed by Grant McCreary on April 3rd, 2017.
eBird is one of the best things to happen to birders in the twenty-first century. It can tell you where certain birds have been seen and even how to get there. But, as great as it is, there are some things it can't do. It cannot, for example, give you a feel for the birding in that location, such as the type of terrain, specifically where the birds are likely to be, and if there is anything you need to watch out for. Also missing are other concerns such as entrance fees and hours of operation. These are some of the reasons why, in addition to eBird, I rely upon birdfinding guides when traveling to unfamiliar areas.
If your travels will take you to central New Mexico, you would do well to rely upon two guides in particular: Birding Hot Spots of Central New Mexico and Birding Hot Spots of Santa Fe, Taos, and Northern New Mexico.
I will be reviewing these guides as though I were someone who has never been to this area, but is interested in birding it. As a matter of fact, that is exactly what I am. I have long wanted to visit the famed Bosque del Apache National Wildlife Refuge to see the amazing concentration of Sandhill Cranes, Snow Geese, and other birds. And New Mexico has an impressive 15 National Park Service units, many of which are clustered in the central portion of the state. So you better believe that I have a great interest in visiting the area covered by these two books.
Together, these Birding Hot Spots guides cover central and north-central New Mexico. If you were to take this mostly square state and divide it into nine smaller squares, in a 3×3 grid, then these guides would roughly cover the central and top-center squares. Specifically, the Central New Mexico guide covers 29 sites in the greater Albuquerque area, from Sandia Crest south to Bosque del Apache, while its Northern counterpart contains 32 sites in north-central New Mexico, including the greater Sante Fe and Taos areas.
The format of the guides is much the same. They start with an overview of the geography and habitats of the area, useful to regional neophytes. A section of 'Helpful Information' follows, including details on how to use the guide, special considerations and hazards (pay attention here!), and a list of local birding information and resources. A regional map is also here, although I would have much preferred it be moved (or copied) to the very front or back of the book for easier access.
Chapters group together geographically related sites. A very brief – no more than a page – general overview kicks off each chapter. Don't skip this, it can provide important information relevant to this area, such as access restrictions. You can also find out interesting, if not exactly birding-relevant, facts, such as that the Jemez Mountains "comprise one of the three largest super-volcanoes in the United States active within the last 2 million years." There's also a map of the region.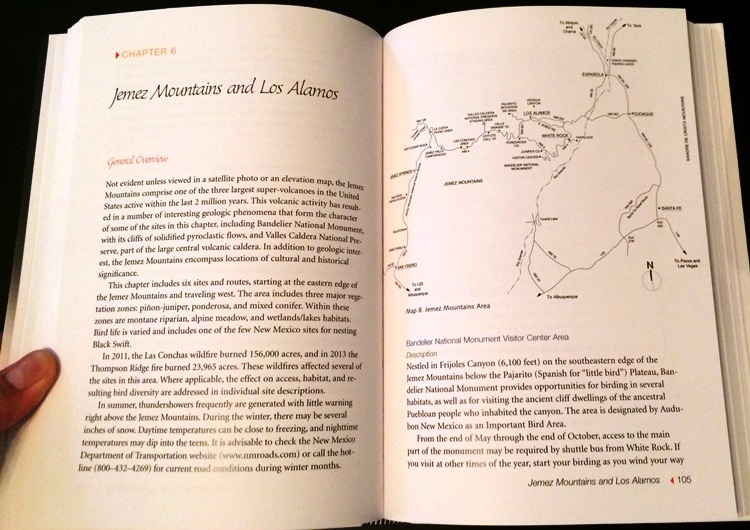 For each site, the guides include:
Description

– a relatively lengthy description of habitat, routes to take, and best times to bird; hours of operation if appropriate

County

eBird Hotspot

– the name of the associated eBird location, if there is one

Target Birds

– list of up to 10 or so birds and where to look for them

Other Birds

– other birds that you will likely come across

Directions

– by car from nearby cities, or public transportation if available

Parking

Fees

Special Considerations and Hazards

Facilities

– including accessibility, restrooms, water, picnic tables, and sometimes even pets and wi-fi availability

Camping

Gas, Food, and Lodging

– nearest location for these services
Altogether, these site accounts have just about everything you need to figure out where you want to go birding, how to get there, and what to do – and look for – while there. Scattered throughout the book are color pictures of the sites and, to a lesser extent, birds that you can see there. These are some of the nicer-looking birdfinding guides.
It would have been nice if GPS coordinates could have been included for each site, though the directions should make it a simple matter to set the appropriate location in your device. But the only thing keeping these guides from being perfect is the lack of detailed maps for each site. Don't worry, the extensive site description includes all the relevant information such as trail location, name, and length, but it would be nice to have that in a visual format as well.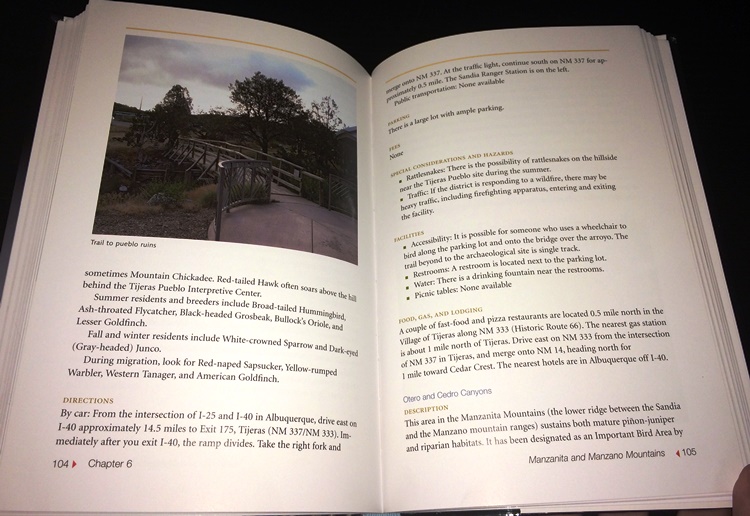 As you can see from the list above, there is much here that you cannot get from eBird. Some of it would be difficult or impossible to find online at all. Here's just one example of this "insider information". Turkey Vulture is listed as a target bird for Bandelier National Monument. It's a bit surprising to have such a widespread bird be included as a target, but in this case it is because there is a large roost near the Visitor Center where you can see great numbers of them sunning themselves in the morning and then flying in at sunset. While I doubt anyone birding there "needs" a Turkey Vulture, this would be a cool sight to check out if you're there, one that you wouldn't know about from eBird checklists.
One of the first things I do when checking out a new region is to figure out the best places to seek out my target birds. These guides help out in that process by including an Annotated Checklist compiling all the species mentioned in the site accounts, along with other regularly occurring birds of the region. In a sentence or two it provides the best sites or area to see the bird along with its abundance and the time of year it is present.
Recommendation
Birding Hot Spots of Central New Mexico and Birding Hot Spots of Santa Fe, Taos, and Northern New Mexico are excellent birdfinding guides to the Land of Enchantment. Anyone – visitor or resident – who will be birding this area is highly encouraged to make use of them. As for me, I'm really wanting to go to central New Mexico now!
Disclosure: The item reviewed here was a complementary review copy provided by the publisher. But the opinion expressed here is my own, it has not been influenced in any way.
Related Posts