Reviewed by Grant McCreary on November 9th, 2011.
Drab, skulking, secretive – sparrows are usually described thusly. But you'd never know it by viewing Watching Sparrows. If you think of sparrows as Little Brown Jobs, this video guide will shatter that perception.
This Watching Sparrows DVD is brought to you by Michael Male and Judy Fieth, the same team that produced the wonderful Watching Warblers. The plan is roughly the same: to present a short, but informative, account for each of the sparrows found in the United States and Canada. 46 species of sparrows, towhees, juncos, and longspurs (though now not thought to be related to sparrows, they will always be "honorary" sparrows to me) are included, from the Five-striped Sparrow that barely makes it into the U.S. as a breeding bird to the ubiquitous Song Sparrow.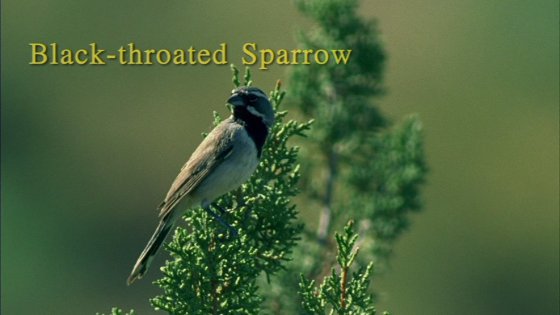 The highlight of the program is, undoubtedly, the video of these birds carrying on with their daily lives. Filmed over the course of three breeding seasons, most of the birds shown are singing males. This shouldn't be a surprise, as such birds are much easier to find and, especially, film. Plus, this way we get to hear the birds as well. However, this does mean that few female, immature, and non-breeding birds are shown. But it's hard to be too disappointed when the video that is here is just so good.
The sparrows are presented in taxonomic order, with Male and Fieth alternating as narrators. The feature clocks in at one and a half hours, and each species gets a little less than two minutes of attention. That's not a lot of time, but the authors manage to work in a surprising amount of information about the bird and its life history, including habitat, breeding biology, habits, and other interesting information. Some identification tips are given, but please take note that this is not intended to be a video field guide. As in the warbler videos, impressive video graphics are used to show the range and migratory movements of these birds.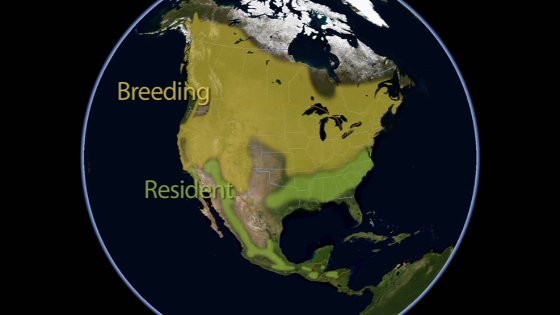 I was pleased to find that each of the four Fox Sparrow groups are shown, discussed, and mapped. Likewise, the various Dark-eyed Juncos are mentioned and their ranges plotted on the map, although not all the forms are shown.
Picture and Sound Quality
The version of Watching Sparrows reviewed here is the second edition, updated and released in 2010. As a part of the upgrade, the video was re-mastered from the original film footage. Wow! I can't believe how good it looks. Presented in anamorphic 16:9/widescreen format (the same resolution as the latest Hollywood blockbuster on DVD), the video is clear and sharp. You will be hard-pressed to see sparrows this well in real life.
The audio is presented in two-channel stereo and sounds perfectly fine.
Extras
Watching Sparrows comes with a few extra features:
You can choose to watch the main program without narration, which might be a good option if you want it to be playing in the background.
Chorus (4:09) is simply a shortcut to the end of the main program where each bird is shown singing for a couple of seconds each.
Fun with Songs (9:16) again shows 18 of the sparrows singing. But after playing the song in real time, it then replays it slowed down to 50% and/or 20% of normal. This reveals intricacies and beauty that our limited sense of hearing can't normally notice, including birds using both sides of their syrinx simultaneously.
Two sparrow-related episodes of the filmmaker's Little Nature Show are included. Fox Fun (7:06) goes into further detail about Fox Sparrows. From the Moon to Montana (7:57) is a behind-the-scenes look at filming longspurs in Montana and a preview of the McCown's Longspur account from this DVD.
Sharp-tailed Sparrows (9:41) is a fascinating look at filming Saltmarsh and Nelson's Sparrows (these were called Sharp-tailed Sparrows when this was created for the first edition of this video), as well as insight into their breeding habits.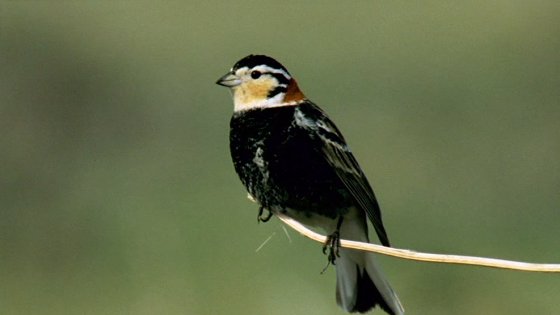 Recommendation
It's easy to love warblers and other colorful bird families, but I've been a converted sparrow aficionado for some time now. This group has birds that are as boldly patterned and fascinating as any other. And, speaking from personal experience, even those you may not expect, like Sage and Henslow's Sparrows, have a subtle beauty of their own that can blow you away just as much as any warbler or tanager. Even if I wasn't already a sparrow convert, I would be after Watching Sparrows. It's absolutely recommended to anyone interested in birds.
You can order this, and other similar DVDs, from Birdfilms.
Disclosure: The item reviewed here was a complementary review copy provided by the producers. But the opinion expressed here is my own, it has not been influenced in any way.
Related Posts