Reviewed by Grant McCreary on April 25th, 2010.
My, how times have changed. Imagine, if you would, a decade ago when The Sibley Guide was published. If you were told then that you could have the entire guide, along with an extensive collection of bird sounds, available electronically in a device small enough to fit in your pocket, you would have been incredulous. And then you would have asked how you could get one! But today, it's "just another app". But is it really? Or is it just as amazing and groundbreaking as it would have been at the turn of the millennium?
The Sibley eGuide to the Birds of North America is an "app" for Apple devices (iPhone, iPod Touch, and iPad), Android, Blackberry, and Kindle Fire. For this review, I used the app on an iPhone. For an overview, please see my initial review of the Sibley eGuide. But here's the gist of that overview – the eGuide is a fairly straightforward port of the Sibley guides from a printed format to an application.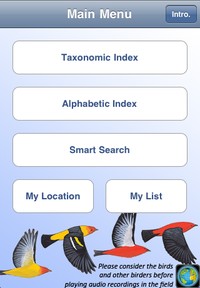 That means that the eGuide contains just about everything included in the printed Sibley guides, both the "big Sibley" and the two regional guides. This is a good thing, since the Sibley guides are arguably the best field guides for North America. The app contains just about all of the illustrations, the range maps, the text (the more extensive text from the regionals, along with some from the big guide as appropriate), and even the introduction. There are some things, like text boxes and ancillary illustrations, that didn't make the transition. For instance, you will not find some of the illustrations of hybrids (including Lawrence's and Brewster's Warblers, and Olympic Gull) in this app. But overall, I was very pleased at what was included. (I will not be reviewing the content, such as illustrations and text, here since that is covered in my review of the printed Sibley guides.)
You have three different avenues to access the species from the app's main menu: a taxonomic index, alphabetic index, and "Smart Search". The first two are exactly as they seem, with the latter being alphabetized by the bird's "last name". The Smart Search allows you to filter based on a set of characteristics. Whichever method you choose, you will be presented with a list of species. You can scroll through them using the usual methods of finger swiping or the scroll bar on the right. There is also a search box at the top.
The filtering capabilities are relatively limited. You can use the following:
Occurance – two options: Show only common birds (only when you have set a location to use as the basis), and to exclude saltwater birds
Distinguishing Features – includes color and visual characteristics like wingbars. You can select multiple attributes
Types – a list of shapes such as "Heron-like" and "Slender bill", along with habits like "Aerialist" and "Tree-climbing". You can only select one
Size – "Thrush-size", "Goose-size", etc. You can only select one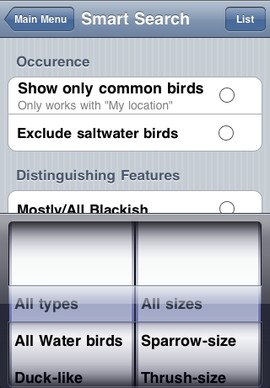 Your choices for searching are pretty limited, especially compared to iBird Explorer. The Types list is especially weird, as it includes both shapes and habits, and you cannot combine them since you can select only one.
Once you select all of your characteristics, the eGuide presents a list of matching species. The selections are appropriate for the most part, but with something like this, there will always be puzzling inclusions and omissions. Personally, I don't consider the House Finch to be Thrush-sized (and for that matter, what's the difference between Thrush-sized and Robin-sized?). Additionally, Scarlet Tanager is not listed among the yellow birds, though the females and young birds are best described as that color. I'm sure there are plenty more examples, but to be fair, all apps that have a feature such as this (yes, even iBird) have issues of this sort.
The navigation, layout, and functionality are easy to understand, provided you have at least some experience with the platform. However, I did encounter a few annoyances:
The Sound button brings up a scrolling selector that overlays the previous screen. This means that you cannot use the arrows to go directly to the next bird's sounds.
Some of the illustrations are quite small, and you cannot enlarge them. [Update, 8/1/2010] Version 1.5 of the app has rectified this. You can now enlarge the images, as shown here. With one fell swoop, this has been transformed from a serious issue to a major strength.
There are no pictures on the species list, which could make it more difficult for some to browse through the list to find what they are looking for.
Some species have so many illustrations that it can take some time to scroll through them to find the one you want. I suppose this is a good problem to have.
The range map screen is not scrollable, so it displays only a single map. If a species has multiple range maps, say a separate map for a subspecies, then they are included at the end of the bird illustrations or as a small inset within an illustration. Instead, it would have been preferable to make the map screen scrollable and place them there.
Extra Features
The Sibley eGuide also includes a rudimentary life list application. You can keep track of the species, location, and date, as well as add comments. However, the reporting functionality is extremely limited, so much so that this won't really do much for you other than give you a count of how many birds you've entered on your list, or let you know what birds you've seen in a certain location or on a given date. Until this functionality is upgraded extensively, I don't see it as being very useful.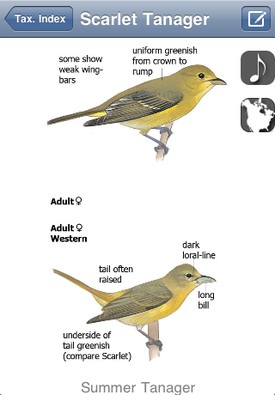 Of much more use is a compare feature. On any species list is a "Comp." button in the upper-right corner. Tap it and a radio button will appear next to each species. Select the first bird that you wish to compare, and then another. Your first choice will be displayed on the bottom of a split-screen view, with the other bird on the top. Each bird is independently scrollable, so that you can compare any of their illustrations. Even better is that you can also compare sounds and range maps (but not the text). Further, you can swipe the top bird to change species. You can also rotate to landscape mode and have the birds appear side-by-side, increasing the size of the images. The ability to make an easy and direct comparison of any two species is a significant advantage of printed field guides over electronic versions. This compare function goes a long way toward leveling that playing field, especially in landscape mode.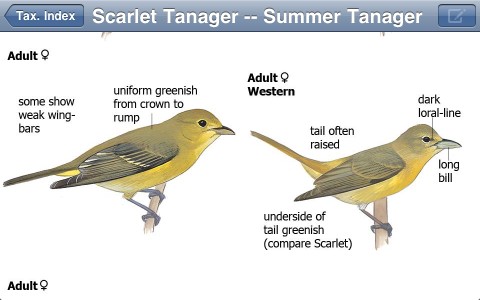 Comparison to other apps
Before the Sibley eGuide, iBird Explorer was my pick for the best bird app. But now I think the choice of app depends on what you're looking for. Here's a brief list of advantages for each:
Sibley eGuide advantages
Better illustrations
More variations and poses are shown
Easier for experienced birders to use for identification
More extensive collection of bird sounds
iBird Explorer advantages
Both paintings and photographs
Better framework for beginning birders to use for identification
Much more information, overall
More, and better, navigation and filtering capabilities
More species included
For a more comprehensive look at these and the other field guide apps, please see my Comparison of iPhone Bird Apps.
Recommendation
The Sibley eGuide is a faithful translation of the acclaimed field guide. I would recommend this app to anyone who normally carries their Sibley with them while birding, or more experienced birders who would like to have a field guide with them wherever they go. Personally, I love being able to always have my Sibley with me.
However, I don't think it's for everyone. If you're trying to identify a bird that you have seen, but have no idea what it is named, this app is much more difficult to use than iBird. Thus, I would recommend iBird to less experienced birders and backyard enthusiasts.
Want to try out the app before you buy? The free LITE version only includes 30 species, but is otherwise fully functional so you can get an idea of how the app works.
Updates
One of the best things about iPhone apps is that they can be continuously updated with no cost to current users. Here are some updates that have been made to the Sibley app since it was released:
Version 1.5.1 – Adds capability to enlarge images, among other useful changes. More Details
Disclosure: The item reviewed here was a complementary review copy provided by the publisher. But the opinion expressed here is my own, it has not been influenced in any way.
Related Posts