Digital cameras, digital photo frames, eBook readers, it seems like the whole world is going digital these days. And now digital field guides are here. You can think of these as traditional field guides on steroids, yet even smaller.
You still get the regular stuff found in field guides: illustrations, range maps, basic identification and natural history information. But the format also allows for much more. You can play a bird's song from within the field guide. Or access information that otherwise would have required cracking open another book or doing an internet search.
Aside from the portability, possibly the best thing about the medium is that it allows you to search for a bird in so many more ways. For instance, if you don't know the name of a bird you want to look up, you don't have to go looking through the accounts as you do in a printed guide. Just input some characteristics in the search function, and the guide will narrow down the possibilities for you.
There are now several digital field guides available to birders, mostly for the Apple iPhone and iPod Touch devices. This is a brief comparison of those for North America.

$4.99

Website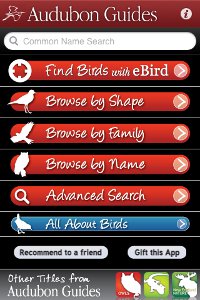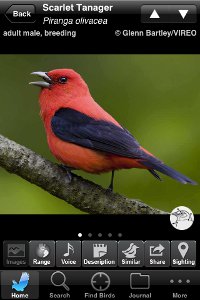 The Good
Find birds with eBird (similar functionality to the BirdsEye app)
Good selection of very nice photographs
Great selection of sounds (essentially the same sounds as Sibley)
Most migrants have a second map showing winter range
The Bad
The interface is very slow compared to the other apps here
Can't browse species taxonomically
Journal and list functions are confusing and not very useful
Audubon is the only one of these apps to exclusively use photos for illustrations. They're nice and work pretty well. But I don't particularly like the interface (the design and, especially, slow response). The biggest plus this app offers is the hook into eBird for finding birds, which is especially useful if you don't have the BirdsEye app. (I think BirdsEye does this slightly better than the Audubon app, but is more expensive and obviously doesn't also come with a field guide!) Overall, the Audubon app is an acceptable field app, especially for those who prefer photos to drawings.

$19.99

Website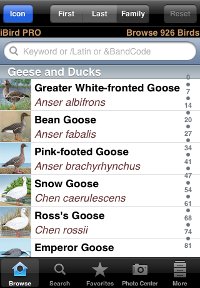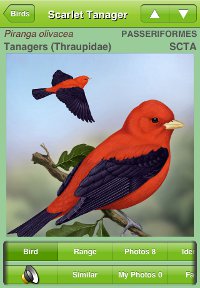 The Good
Includes both art and photographs
Number of species included (926), and includes Hawaiian birds
Includes a lot of interesting facts and natural history information
Powerful search engine / filtering capabilities
The Bad
Number of illustrations is very limited, with many only having one (females and immatures are often neglected). The photos, however, help make up for this
Price
Lack of sighting system/lists
Quality of some illustrations is poor
iBird has been greatly improved since I first reviewed it, with added sounds along with new and improved illustrations. This is perhaps the best app for newer birders. However, the lack of variety in illustrations and relatively poor treatment of difficult-to-identify species means that it will be less useful to more advanced birders.
Note: there is now an iBird Ultimate version, which includes even more features.
Try out iBird for free with iBird Lite Guide to Birds, which includes 60 sample species.
Full Review of iBird Explorer app (Note: I need to update this review to include the latest app improvements)

$9.99

Website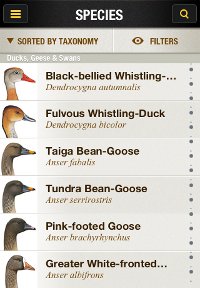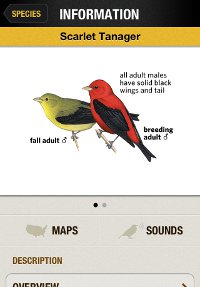 The Good
Number of species included (995, the most of any app)
Great sound interface, including similar sounding species
Includes more information – similar species, winter ranges, natural history, etc – than the field guide
Extras such as quizzes and videos
The Bad
The images are relatively small on the screen. You can zoom in, but since the size of the area dedicated to the image doesn't change, it doesn't help much. And the image quality doesn't quite hold up when zoomed in. With the latest update, when you zoom in far enough it will show the image full-screen. And the image quality looks much better. It's still an awkward operation, but at least you can do it now.
List functionality has potential, but not really useful yet
The latest print edition of National Geographic Birds is a great field guide, but I was surprised to find that this app not only does justice to it (with the exception of the small images), but actually improves upon it in surprising ways. For instance, it not only gives a list of similar species, but also specific tips on how to differentiate them. And it does this for every bird, as far as I can tell. This, combined with a good selection of sounds (and a great interface for playing them), makes this app a useful one in the field.
Try out this NatGeo app for free with Birds Lite by National Geographic, which includes 70 sample species.

$14.99

Website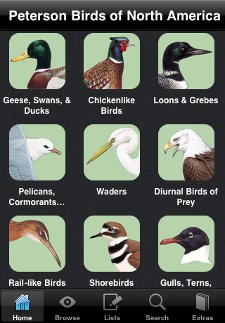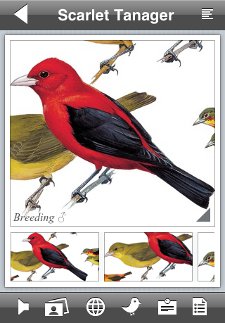 The Good
Great list feature that allows you to import/export lists
Incorporates information from seven other books in the Peterson Field Guide series (including, for example, the entire text from Molt in North American Birds)
Works and looks great on an iPad
The Bad
Sounds – the worst selection (only one per species) and interface for playing them
Interface doesn't work as well on an iPhone
This app does a good job of presenting the Peterson field guide, as well as many other sources from the Peterson guide series, in a digital format. It makes a very good reference app on the iPad. And for the price (currently $4.99, though sometimes on sale for even cheaper), it's a great deal. However, due to the limited sounds and the iPhone interface, I don't think it works well as a field app.
There is also a Peterson Birds Pocket Edition app. For only $0.99, you get ALL the species of the full app, including all the field guide illustrations, sounds, maps, and species account text. But you lose some cool features, like the additional Peterson guide content and the list capabilities. This version is an incredible bargain.
Full Review of Peterson Birds of North America app

$19.99

Website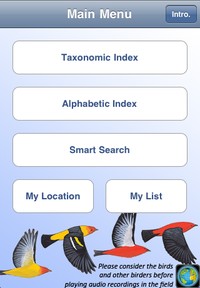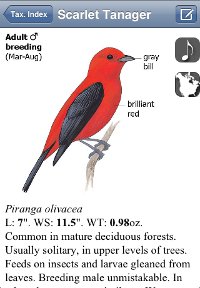 The Good
The best illustrations of any North American field guide (in my opinion), and includes the greatest number of illustrations per species
Only app that allows you to compare portraits, sounds, and range maps of any two species on the same screen
Great selection of sounds (essentially the same as Audubon), and a good interface for playing them
The Bad
Price
Filtering capabilities are relatively limited
Lack of extras like natural history information, social media sharing, etc
I love always having my Sibley guide with me via this app. The print edition is still my favorite field guide, and this app is likewise the one I turn to first, even though it doesn't have some of the information and features found in other apps. Basically, what you get is the contents of the print guide plus sounds, filtering, and list features. But the main content – the illustrations and sounds – are the best.
Try this app out for free with The Sibley eGuide to the Birds of North America LITE, which includes 30 sample species.
Full Review of The Sibley eGuide app
So which one of these bird apps belongs on your device? It depends on how it will be used. For use in the field viewing images and playing sounds, I prefer the Sibley app. But Audubon and NatGeo also work in that regard, and each bring different feature sets that other apps don't have. iBird is a little different, in that it may be the best app for beginners (easy to use, great filtering), but experienced birders will be frustrated by the lack of variation depicted. As a reference (especially on an iPad), NatGeo, iBird, and Peterson are great because of the extra information they include. Peterson, especially, contains a LOT of reference material, looks great on the iPad, and is an exceptional value.
For a more detailed comparison of features, here are a couple more resources. Robert Mortensen, of the Birding Is Fun! blog, has a useful Feature comparison table. Also, the folks at iBird have compiled an extensive comparison. (Keep in mind that one of the competing companies produced this table, and there are a few oversights/mistakes as of this writing. However, overall it appears very fair and objective to me.)
Finally, I wanted to mention that all of these apps, except iBird, feature some sort of listing capabilities. You could keep a life list or record sightings on them, but honestly, I don't see why you would want to. None of them work very well for that. However, Peterson and NatGeo offer some additional listing capabilities that could prove very useful. In Peterson, you can create, import, and export various lists. You can think of them as analogous to playlists for mp3's. NatGeo is more limited right now, as you're limited to creating lists or using a few pre-packaged ones.
More Bird Apps
Posted by Grant McCreary on December 15th, 2009.
Related Posts